Are you missing your weekend outings to your local vintage store? Or maybe your post-work ventures to the charity shop down the road? Well we've got your needs covered during the COVID-19 lockdown with our Upcycled & Vintage collection.
We're all aware by now that a great way to reduce your fashion environmental footprint is to invest in second-hand (or pre-loved, as some affectionately call it) clothing. At Fanfare we're here to encourage you to close the loop and keep these unique garments out of landfill. If you haven't already checked out our Upcycled & Vintage collection, it's full of high-quality garments that we've repurposed to make one-of-a-kind creations for our customers.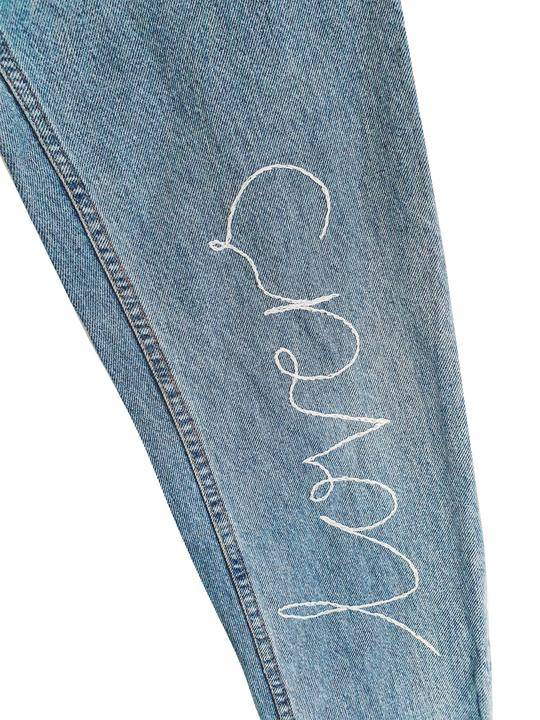 But it doesn't stop there.
We're setting ourselves apart from your average vintage store by offering you the option to design your very own pair of jeans. Choose from our range of vintage denim, add any written embroidery or design and we'll make it happen. We're more than happy to collaborate together with you and create a moodboard for that extra little kick of inspiration. Just get in touch at fabricforfreedom@outlook.com.
We have brand new designs being introduced every week so be sure to check back regularly to check out our latest offering.
Not only that, you can also send in your own garments to us. Want a revamp? Have old denim pieces you want us to upcycle? Send us an email and we'll discuss how best to inject a new life into your well-loved wardrobe.
If you've already jumped on the crafting hype why not join our crafting competition? Send us pictures of the things you've been re-inventing while you're at home. Tag us (@fabricforfreedom) in your crafting posts on social media and we'll repost all entries. Each week we will announce a competition winner who will earn themselves £15 credit for our online shop.
Don't forget to nominate your friends and tag your pals. After all, sharing is caring.