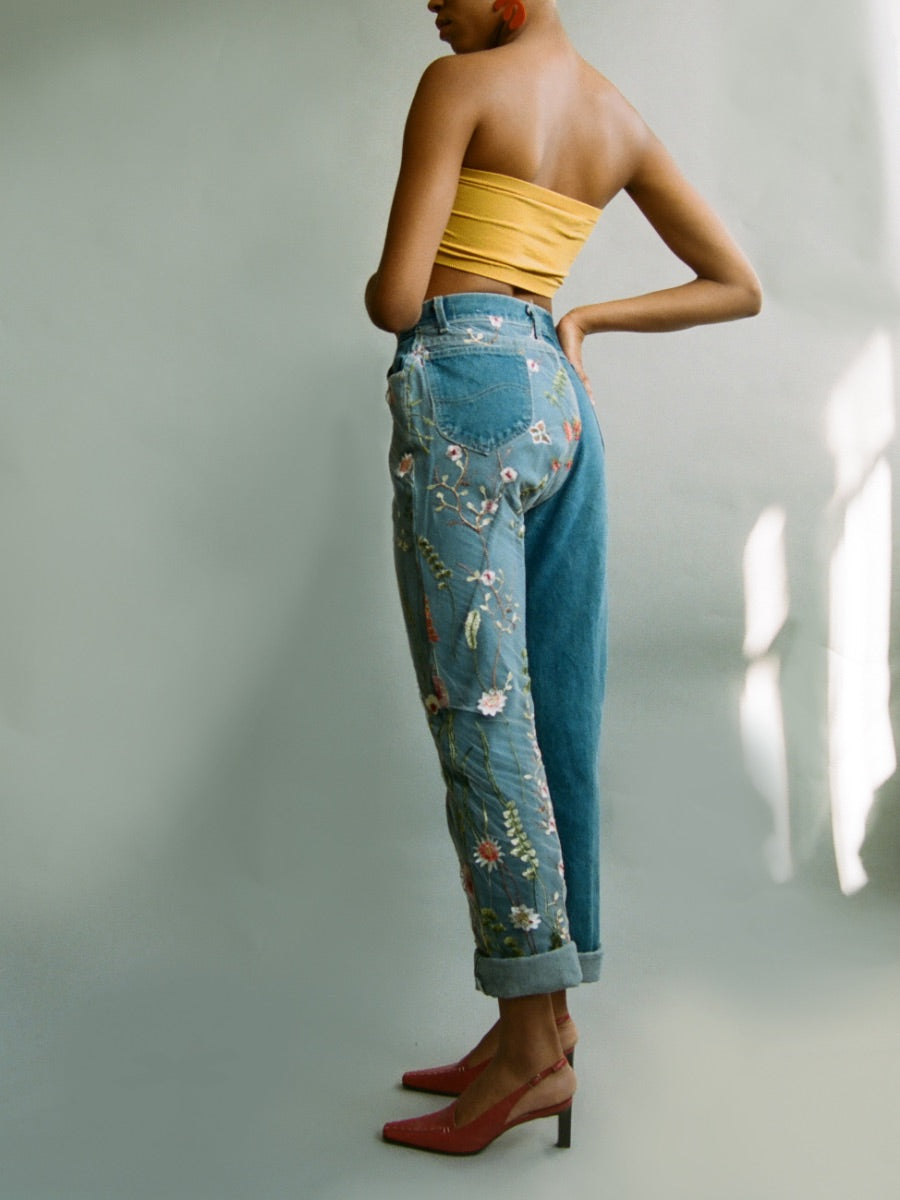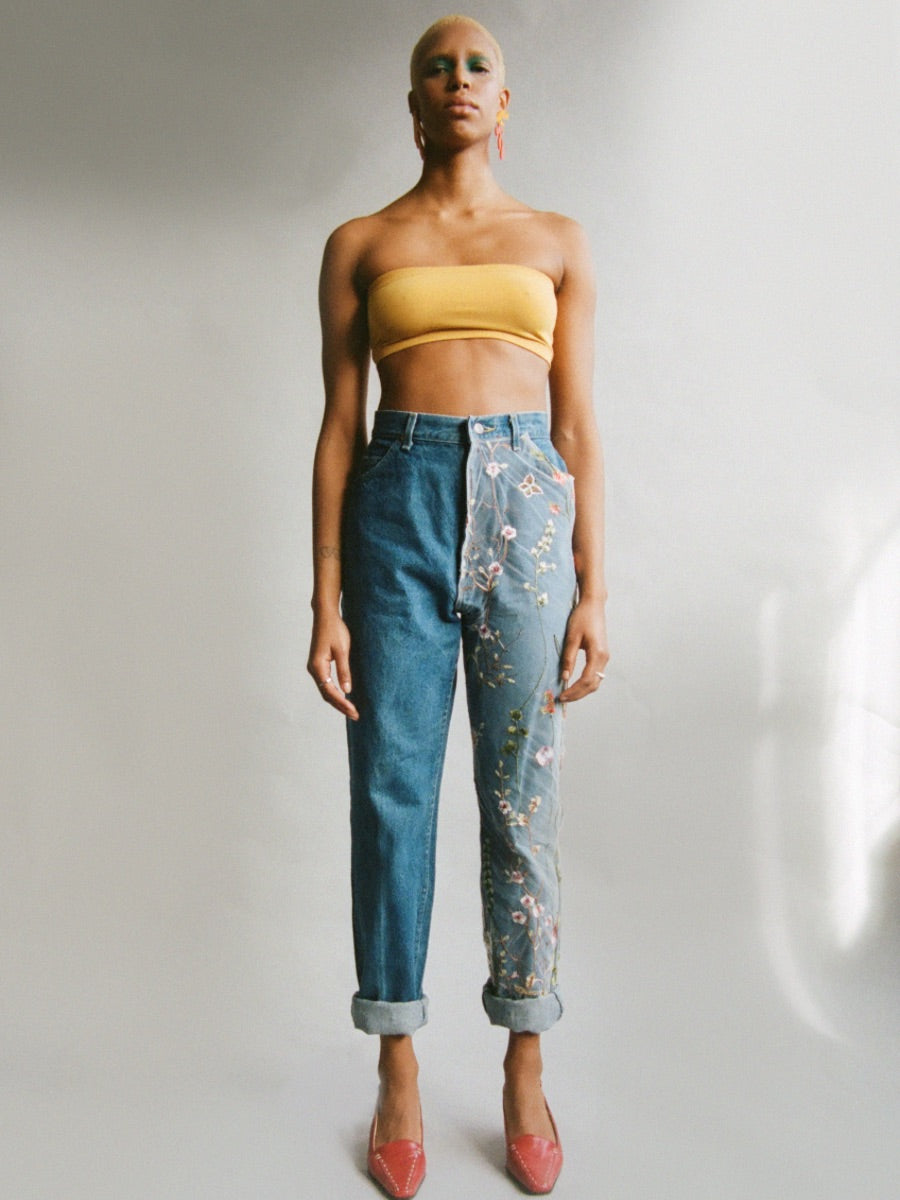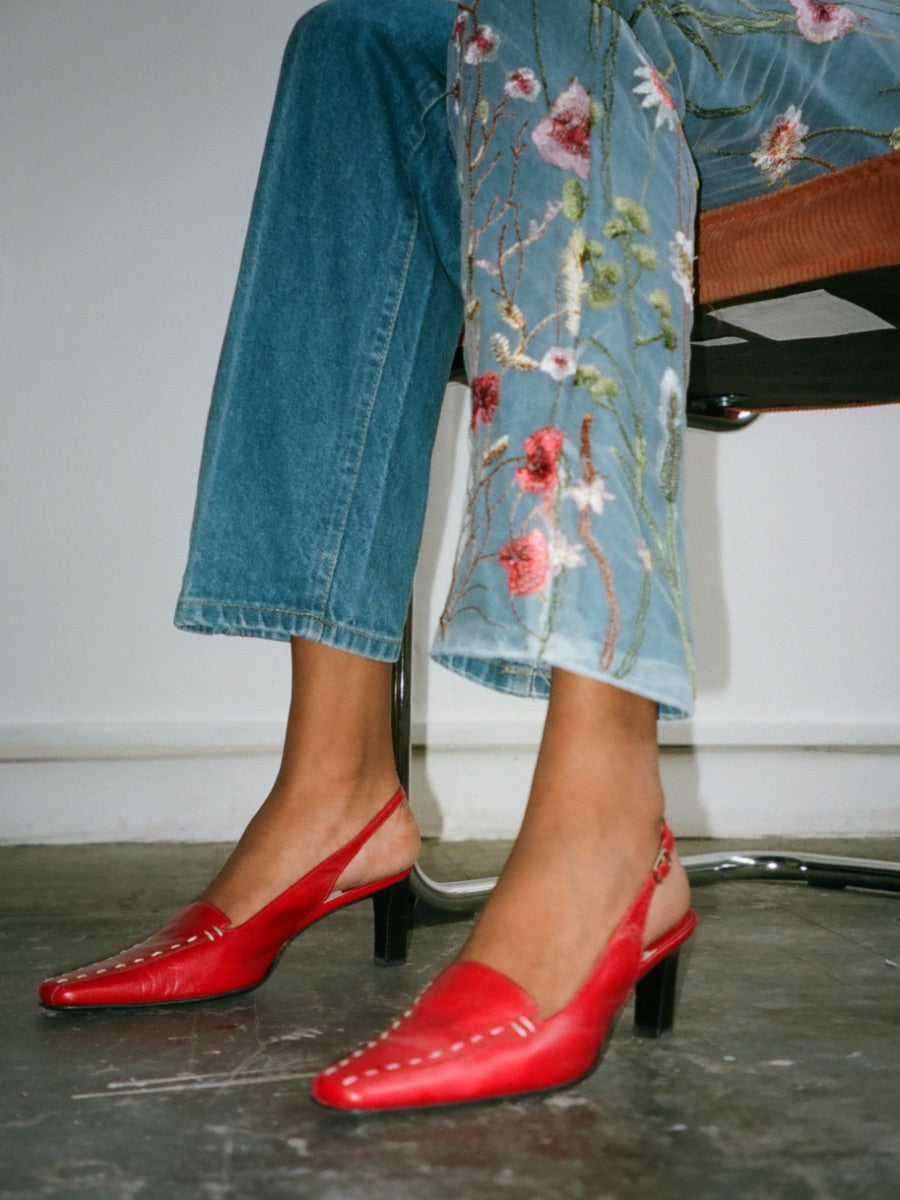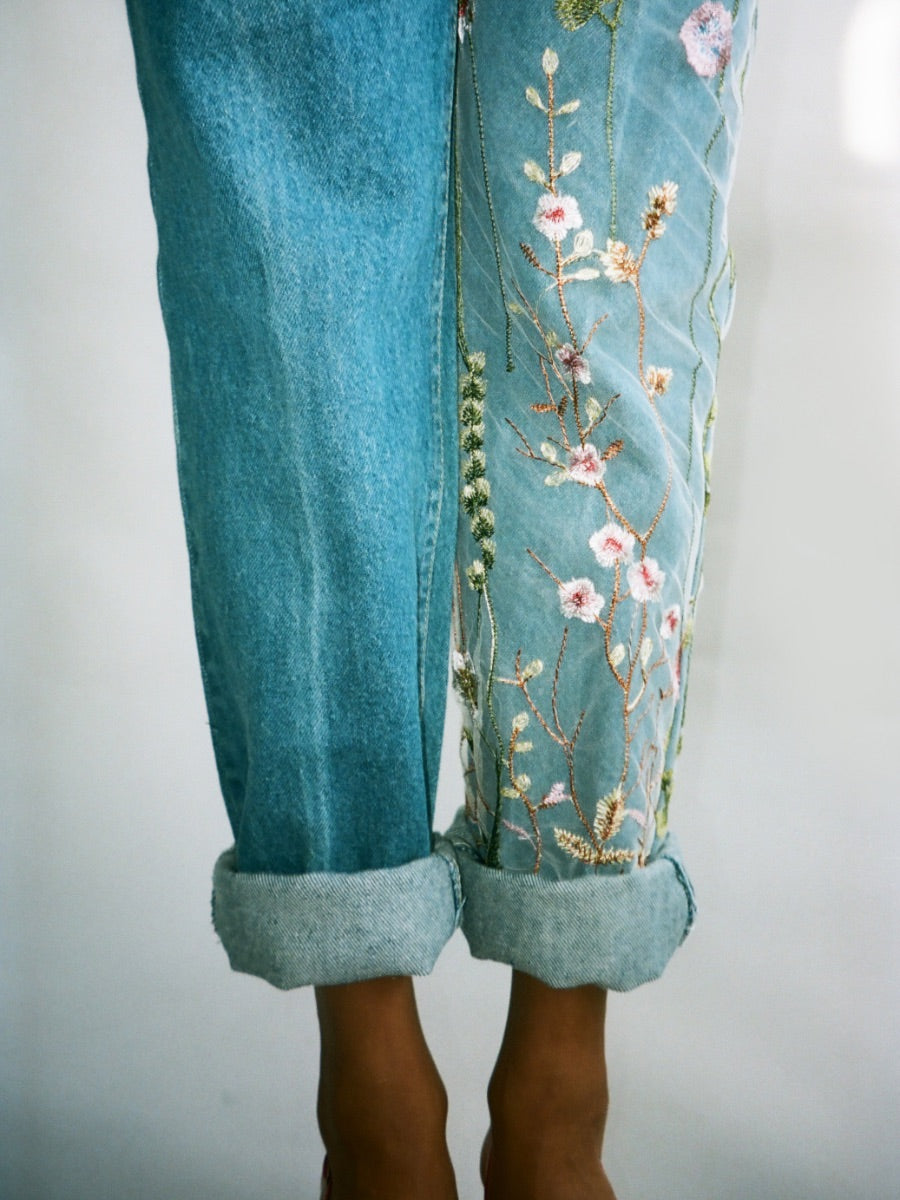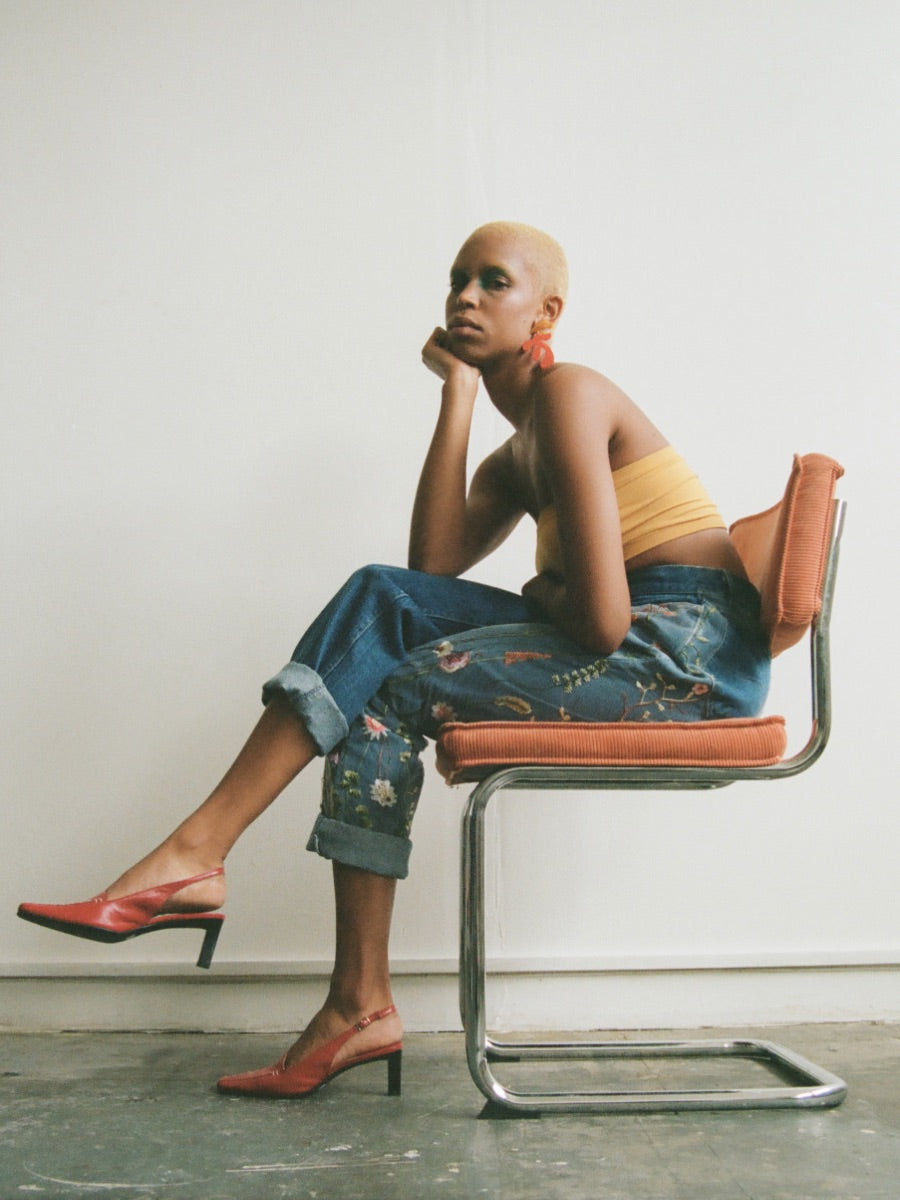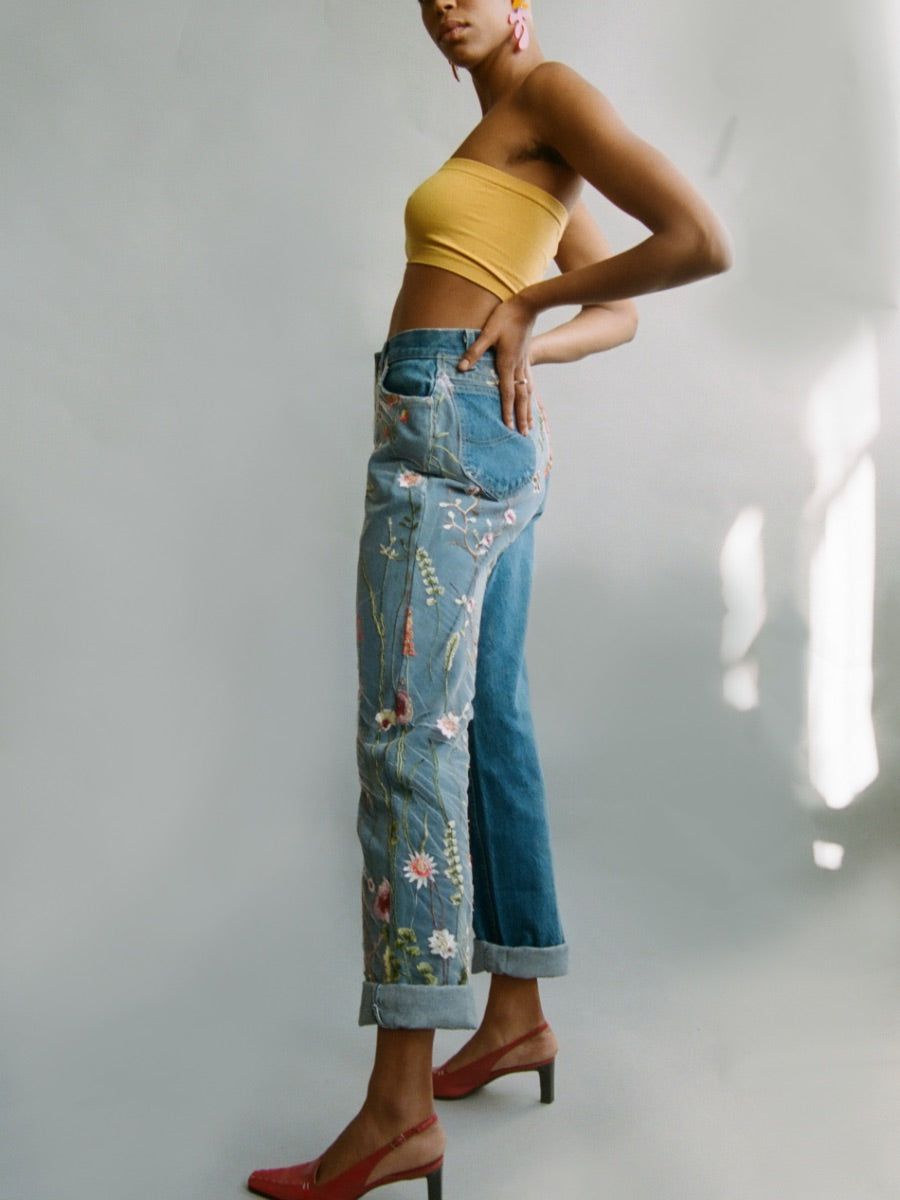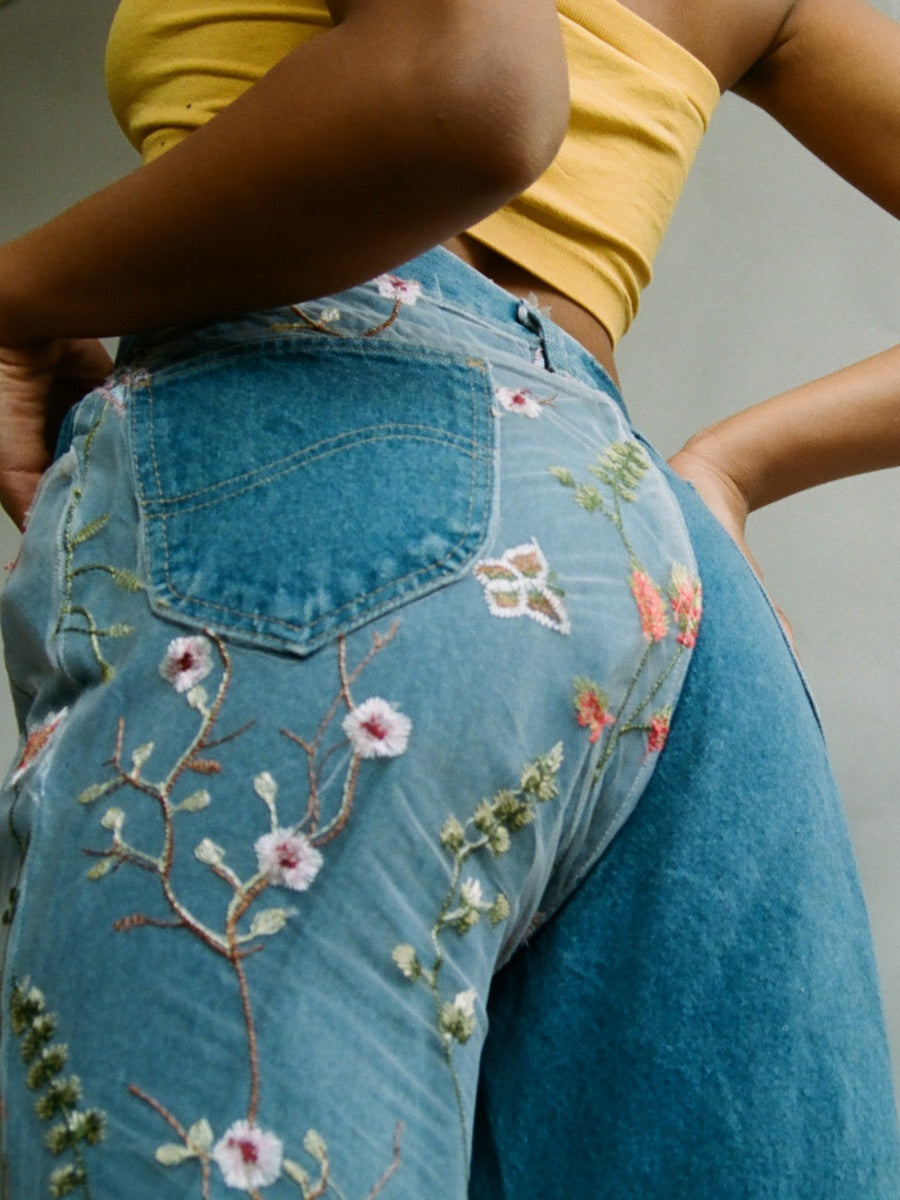 High Waisted Recycled Colourful Asymmetrical Embroidery Blue Jeans
High waisted blue relaxed mom fit jeans with a zip fly. 
The details
Our recycled collection takes a product that would have been deemed wastage and repairs, re-purposes and re-designs them into new pieces. These pieces have all been made and re-designed from clothing that was wastage and would have gone to landfill, giving them a second life.
These one-off pieces are special and unique to each individual. These beautiful pieces are handcrafted & made to order so please allow a maximum of 2 weeks before receiving. 
Floral petal applique to the front
High waisted mom style
Relaxed fit & rolled up hems
Mid-wash blue denim
Average trouser length
These jeans are made from Vintage surplus denim. As they are up-cycled each pair can differ slightly in colour & fit. However, if you have a preference on jean style please do send us an email. Our jeans are high waisted "mom" style jeans, mid denim wash but if you prefer a different shape please let us know and we can organise. 
Care notes
Wash only when needed. 30° delicate wash iron, steam or dry with low heat. No tumble drying.
Circularity, longevity and innovation drive the design of every one-of-a-kind creation at Fanfare Label and our award-winning collections are the go-to for those seeking seasonless, contemporary clothing. 
Fanfare Repurposed
Our Fanfare Repurposed collection rescues textiles that would have been deemed waste and destined for landfills. We recycle, repurpose and redesign these pieces and transform them into style-led statement jeans you'll wear for life. 
Sustainably Created
Our Sustainably Created collection is made slowly from certified sustainable fabrics. We consciously choose our materials to ensure that each limited edition piece has an infinite life cycle and inspires a buy-to-last mindset.
Both collections are ethically made in the UK.
Ethics & sustainability are the pillars of the business. Fanfare Label pieces are made in ethical factories from organic & recycled materials. Even down to every thread, fibre & trim sustainability is considered, sustainability is a journey, and the brand is always looking for ways to improve.
When you buy one of  our considered pieces you are part of the Fanfare family & are joining us working on a solution.
Standard shipping:
FREE on all UK orders over £50.
Delivery within 3-5 business days. 
Express shipping:
Next day delivery if you order by 4pm (UK Time).
International shipping:
All international orders will be sent via a tracked service.
· Standard via DHL (5-7 working days)
· Express via DHL (2-4 Working Days)
For more information on delivery & returns please click the link here.
Transparency
Understanding the value of our clothing, their journey and what they are made up of is something we want to be transparent with you all throughout. Please note, these calculations are based on internal estimates and we are looking for an independent monitoring body to full investigate this for us, but in the meantime please see our internal data.
See Positive Impact of this chosen product:
Estimates calculated internally at Fanfare Label
Read More
Overall Traceability
Our clothing is made from certified sustainable fabrics or recycled collections that encompass discarded clothes and textiles
69% Organic Cotton, 20% Post Consumer Recycled Denim, 9% Recycled Plastic Bottles and 2% Recycled Polyester
Zero Toxic Chemicals
Save 92% more water than conventional denim fabrics
Made from recycling
Eco Friendly washing using oxone and laser techniques instead of hazardous methods
GRS-certified recycled cotton
OCS-certified organic cotton
Washed at a GOTS-certified laundry
Meets OEKO-TEX standards
Fanfare Label jeans are ethically made in Portugal by a GOTs certificated factory, our suppliers are committed to the highest standards of sustainable manufacturing.
All production is done within 50km of each other to save of travel CO2 shipping garments far away. Then shipped to the UK.
Recycled paper certified by the FCA
100% Recycled Polyester
Made in Turkey
Global Recycling Standard
We do our best to design timeless and qualitative pieces because we believe that buying high-quality seasonless pieces is the first step towards sustainability. Our clothes are designed to stand the test of time, circularity, longevity & recycling at its core. Opting for a seasonless collection as opposed to trend-led ranges, Fanfare Label offers customers timeless pieces that are made to be cherished as opposed to trend-led ranges.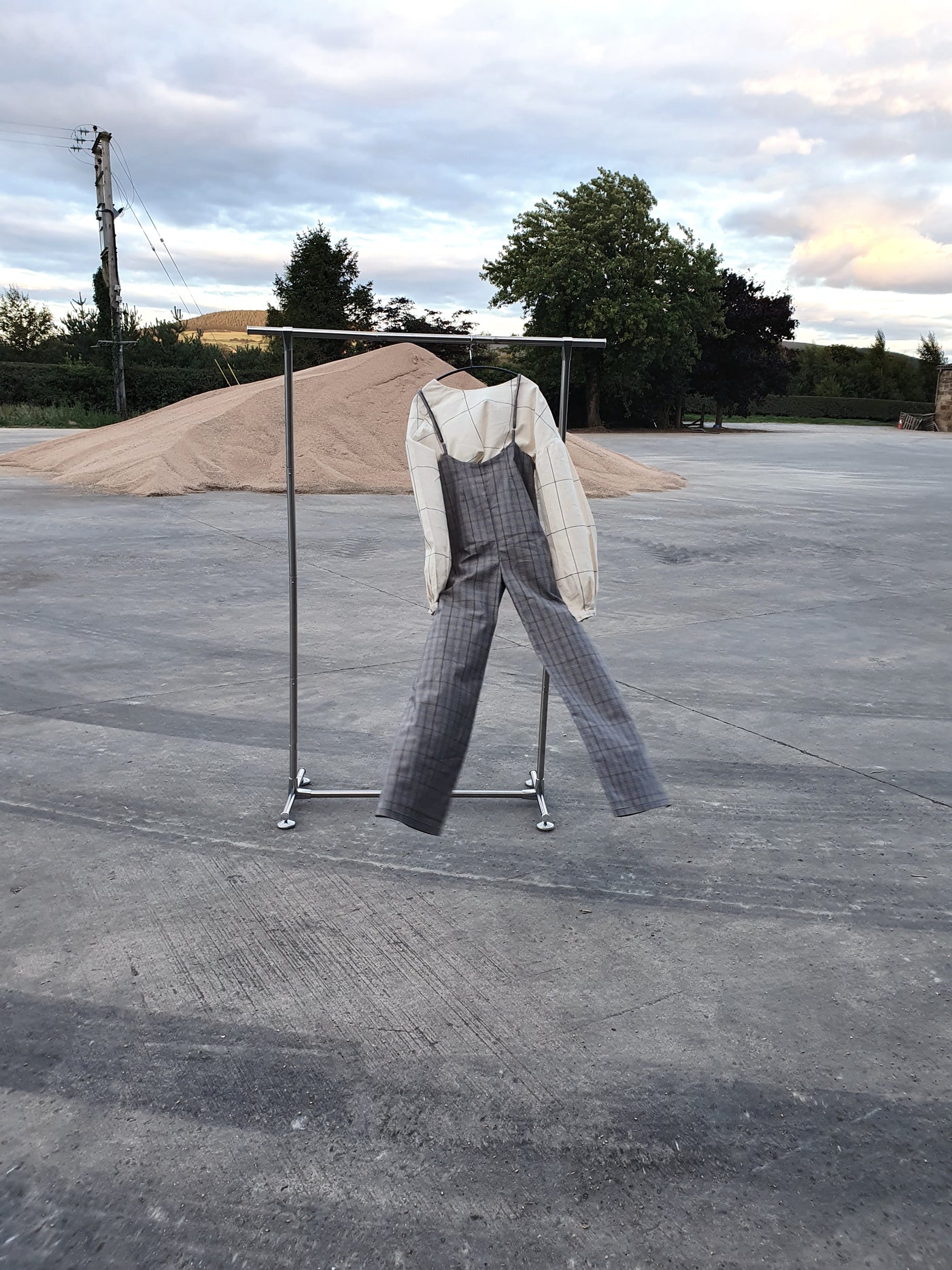 Our story
Fanfare Label is an independent sustainable fashion house leading the way for circularity and positive change. What others see as waste, we see as a starting point…
'This is what fashion could and should look like. Our clothing is an expression for change, fairness and freedom.'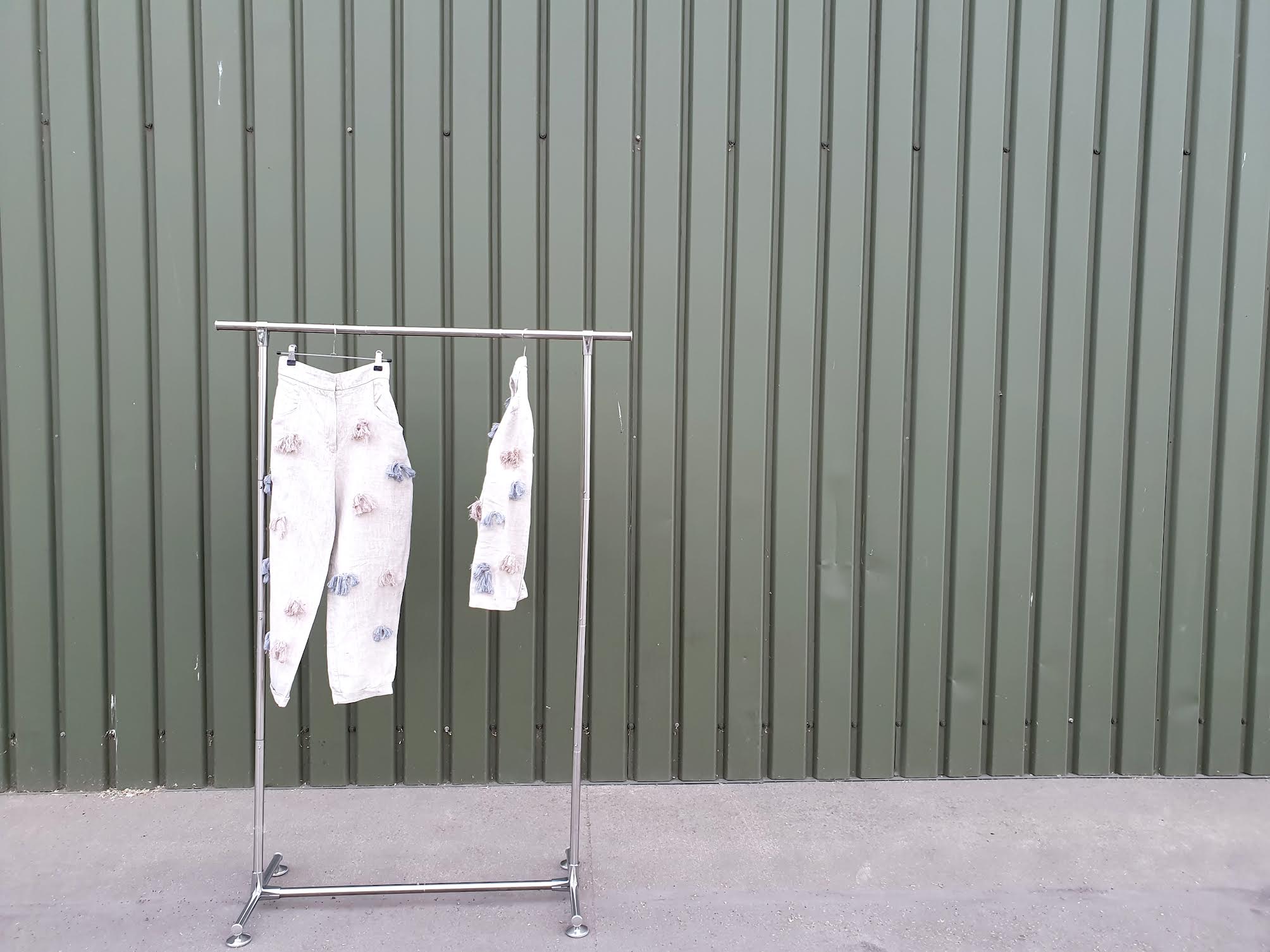 Our mission
Repurposed. Reused. Recycled.
We care for people and planet in equal measure. Together, let's redefine our relationship with clothes.