High Waisted Organic & Recycled Upcycled Denim Leaf Blue Jeans
High waisted blue relaxed mom fit jeans with a zip fly. As an upcycling jean brand we collect second hand jeans from charities, second hand stores, recycling plants and from a variety of other sources. We noticed that not all of these jeans were in the best quality to sell to our customers. As a circular brand we came up with a solution to our excess jeans.
The details
69% Organic Cotton, 20% Post Consumer Recycled Cotton, 9% Recycled Plastic Bottles, 2% Recycled Polyester.
The use of Post-consumer Recycled Denim ensures that pre-existing denim that cannot be resold or repaired is worked back into the system and not headed for landfill, giving exciting materials a new life through various textile techniques.
Upcycled leaf design

High waisted mom style
Relaxed fit & rolled up hems
Mid-wash blue denim
Average trouser length
Fanfare Keep Hold Collection
Fanfare Label introduces our new collection of circular jeans named 'Keep Hold'. The inspiration behind this collection is to promote longevity and to ensure customers are 'keeping hold' of their garments and cherishing pieces forever.
These jeans are designed to stand the test of time with circularity, longevity & recycling at its core:
This jean is made from waste

 

- Fanfare Label reduces waste it by turning post-consumer clothing & textiles into premium product.

 

What others see as waste, Fanfare Label sees as a starting point.
This jean has been ethically produced

 

- Fanfare Label jeans are ethically made in Portugal by a GOTs certificated factory, our suppliers are committed to the highest standards of sustainable manufacturing.
This jean is certified

 

- Certified factories, fabric and processing. Read more in our transparency section about the different certifications.
This jean is part of a conscious supply chain

 

- Our clothing is made from certified sustainable fabrics or recycled collections that encompass discarded clothes and textiles.

 
This jean chooses full transparency - We only work with certified and traceable materials and with local manufacturing.

 
This jean is made for recycling

 

- We consider the end of life of our jeans to ensure they are fully recyclable.
This jean is made with 0 Toxic chemicals and reduced water

 

- Ozone and Laser techniques have been used to eliminate the use of water and chemicals in the processing of our denim, each pair saving 92% water compared to conventional jeans.
Care notes
Wash only when needed. 30° delicate wash iron, steam or dry with low heat. No tumble drying.
Circularity, longevity and innovation drive the design of every one-of-a-kind creation at Fanfare Label and our award-winning collections are the go-to for those seeking seasonless, contemporary clothing. 
Fanfare Repurposed
Our Fanfare Repurposed collection rescues textiles that would have been deemed waste and destined for landfills. We recycle, repurpose and redesign these pieces and transform them into style-led statement jeans you'll wear for life. 
Sustainably Created
Our Sustainably Created collection is made slowly from certified sustainable fabrics. We consciously choose our materials to ensure that each limited edition piece has an infinite life cycle and inspires a buy-to-last mindset.
Both collections are ethically made in the UK.
Ethics & sustainability are the pillars of the business. Fanfare Label pieces are made in ethical factories from organic & recycled materials. Even down to every thread, fibre & trim sustainability is considered, sustainability is a journey, and the brand is always looking for ways to improve.
When you buy one of  our considered pieces you are part of the Fanfare family & are joining us working on a solution.
Standard shipping:
FREE on all UK orders over £50.
Delivery within 3-5 business days. 
Express shipping:
Next day delivery if you order by 4pm (UK Time).
International shipping:
All international orders will be sent via a tracked service.
· Standard via DHL (5-7 working days)
· Express via DHL (2-4 Working Days)
For more information on delivery & returns please click the link here.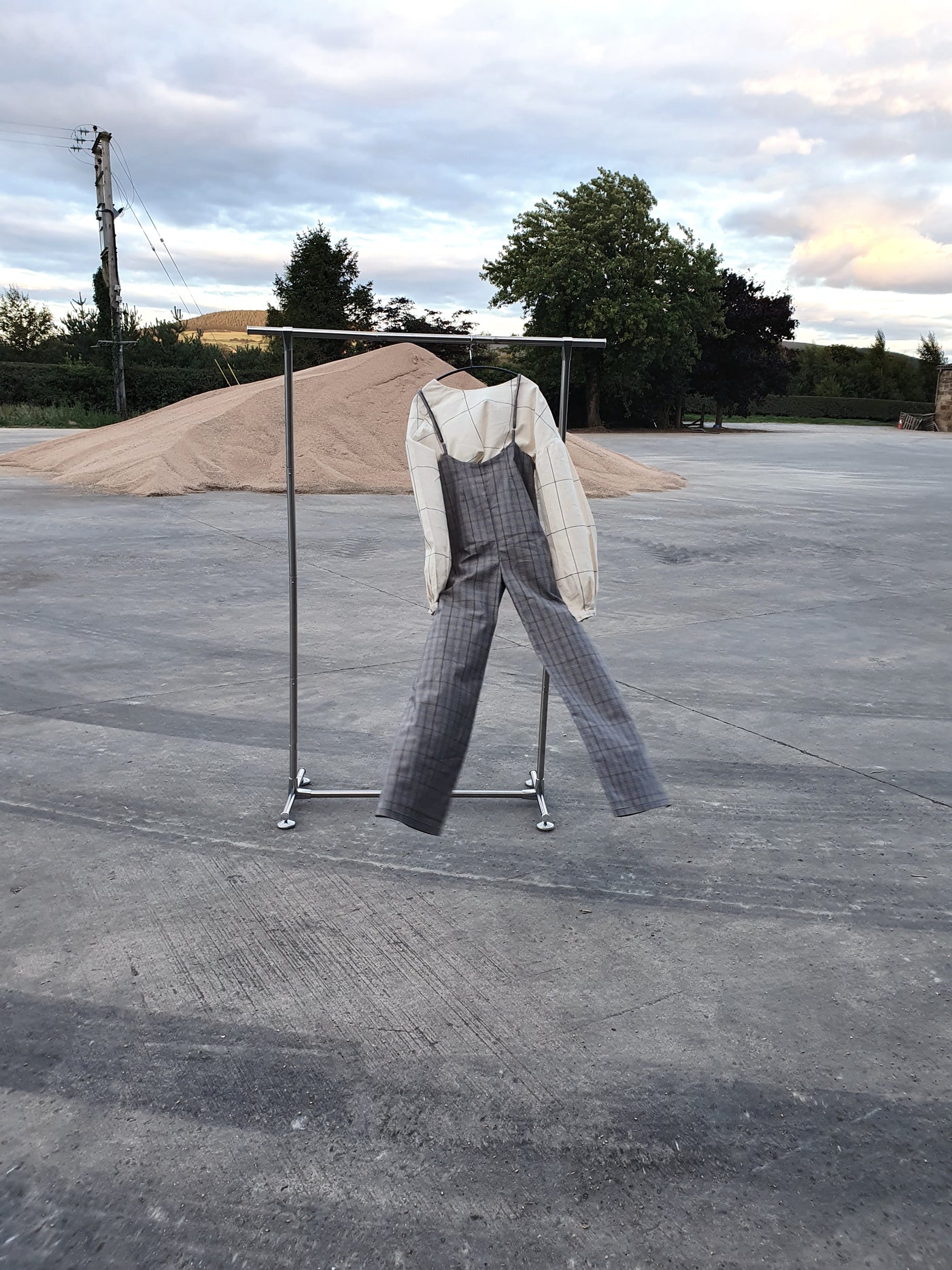 Our story
Fanfare Label is an independent sustainable fashion house leading the way for circularity and positive change. What others see as waste, we see as a starting point…
'This is what fashion could and should look like. Our clothing is an expression for change, fairness and freedom.'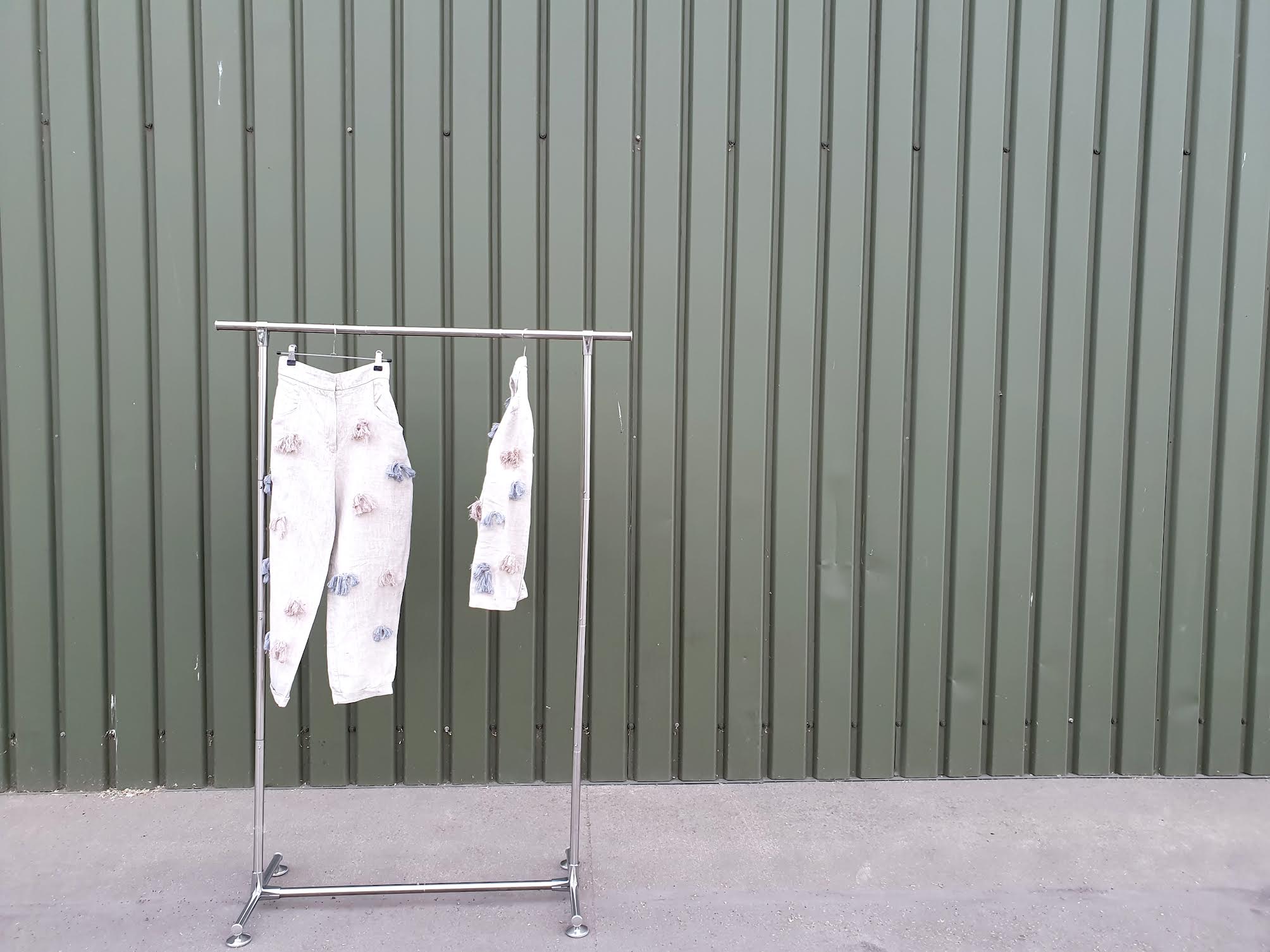 Our mission
Repurposed. Reused. Recycled.
We care for people and planet in equal measure. Together, let's redefine our relationship with clothes.