As part of our IG live series Our Founder and CEO Esther Knight joined Maria Chenworth, CEO of Traid, Mathilde, co-founder of Blanc Living and Amanda from The Sustainable Angle to discuss how to make our clothes last. This panel was part of Fashion Revolution Week. Click here to watch the full interview.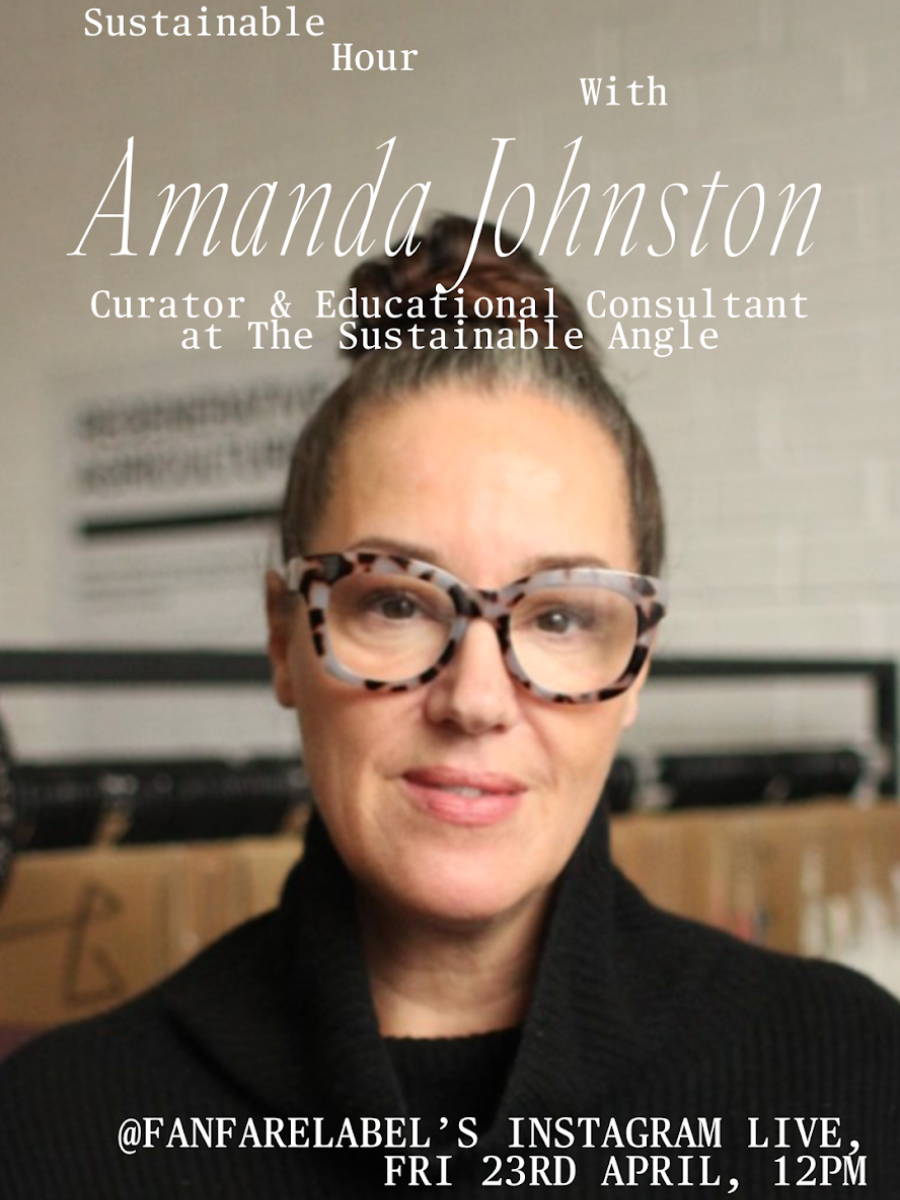 Amanda Johnston - The Sustainable Angle
Introduce yourself and a bit about what you do at The Sustainable Angle:
I am a curator and educational consultant at The Sustainable Angle. I have a background in design and teach at London College of Fashion as well. We are a materials resource, it numbers around 5000 materials. All fibres used in the fashion industry. But also connected very strongly to educating people. Why they are preferred choices. We work with around 200 global suppliers. But also why we say material is sustainable. The fashion industry have woken up to understanding what sustainability means. Having that resource when it comes to fabrics and knowing what is right for your brand.
How do you feel your roles have changed over the years to reflect changes in sustainability?
We have been going for ten years and growing year on year. Business as usual is not a choice. We need to pause for thought and assess how it is affecting the fashion industry and those most vulnerable. We are doing a lot of virtual, we are in the midst of a climate emergency and that translates directly to how brands stay in business. The wake up call came with last year's expo. We had over 3000 visitors over two days. People standing in line like they were trying to get into a nightclub. A lot of brands think it is an added bonus - it's a must.
If you can, could share any new and exciting innovations in that space?
We work year round to look for the most sustainable materials that could be commercially available. We see now, all those leather alternatives. Which is the antithesis of what we want. There are lots of developments. We are seeing mycelium leather, which is the root structure of funghi. Trained by man but grown naturally by root structure. We still need to think about how we are managing all the natural resources we get from other fibres. That they are produced using regenerative farming.
There is more biodiversity beneath our feet, contained in soil. If we don't have that healthy soil then we can't grow anything. Also health soil sequesters carbon. It is critical. Everything we have depends on biodiversity and soil.
What are some of the most sustainable fabrics out there? Have you got any tips for someone starting out and where they should go in terms of fabrics?
We need to diversify our fibre basket. I would say research into things like forgotten fibres. Linen is a bast fibre, as is hemp. Hemp to ease our reliance on cotton. They are not so heavy on water, it is a really interesting added benefit; there is a whole group of plants in that category. We are so default in the fashion industry to stick with the fibres we know. Work with suppliers that are as local as possible and that you can trust. We do have the opportunity for change. Knowing your fibres and what to ask for them.
What do you see as the future of sustainability? And the way the market is moving?
What the future needs to be is seeing other ways to enjoy fashion; up-cycling or reselling. And you can balance certain models together. We have this old system of spitting out products and that needs to radically change. Then your materials are critical. Out of all the decisions you're going to make. How you structure what you're doing is one of the overarching things. Cherishing and trying to bring that back into the culture. The fashion industry can do a lot in indicating value.
'Work with suppliers that are as local as possible and that you can trust.'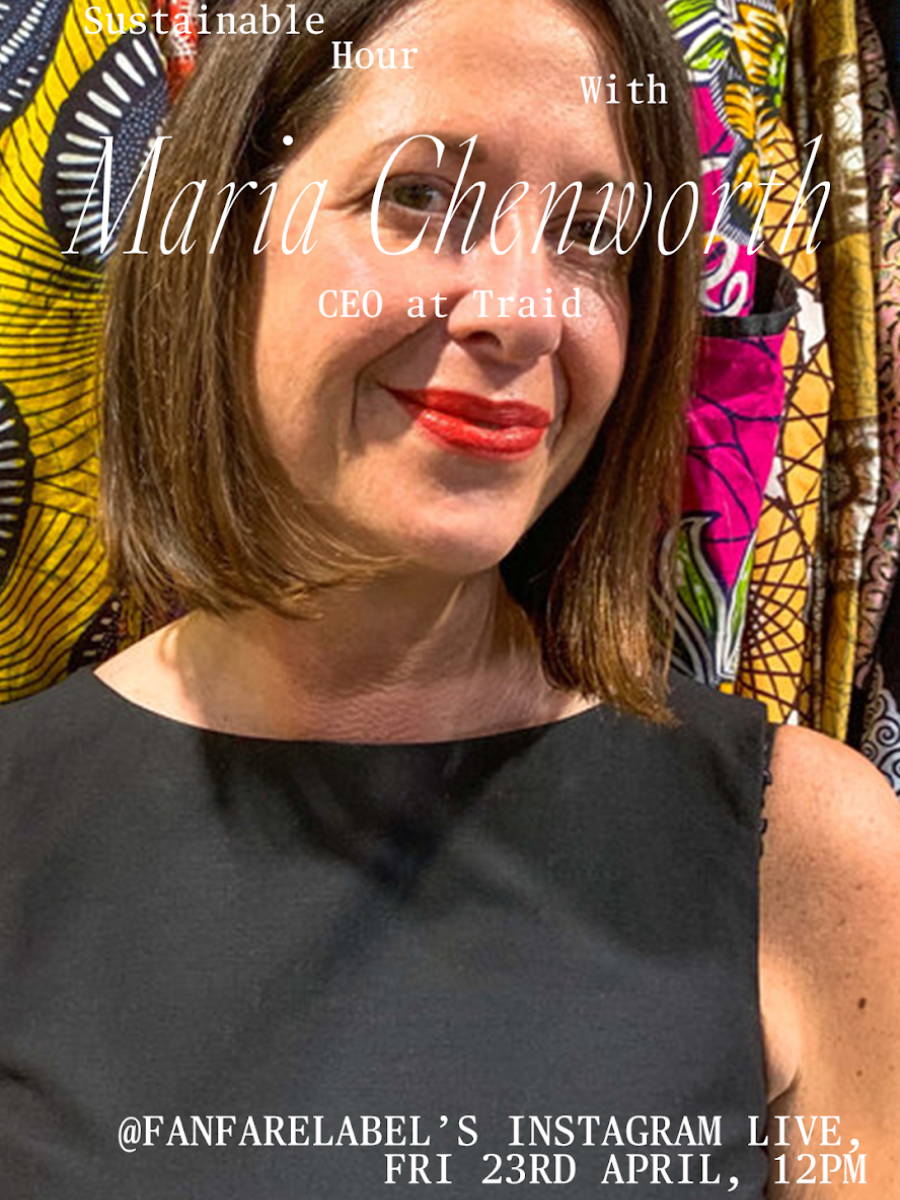 Do you want to start by telling us a little about yourself and what you do?
Traid is a charity, we are 22 years old and we try very hard to get people to wear second hand clothing. Our mission is to get people to wear second-hand clothing. It funds global products which focus on how clothes are made. For example, providing children centres in Bangladesh so that workers have a safe space to leave their children when they're at work for example.
I've worked with second-hand clothing for over thirty years. The little seaside town I came from didn't have any clothes shops.
How things have changed in the past year - have you seen that in your sector?
This time round, I really hope it is here to stay. More and more people are buying secondhand clothing in that context. 65% of the UK wear something second-hand which is amazing. It's about decreasing this huge portion of fast-fashion we are wearing. We are in a climate emergency. I was talking to some young customers in the Traid Camden street and they were buying from the sustainable angle. Promote to a new audience the importance of our clothing. So much goes into producing a garment. We are in this position where we overproduce.
What do you feel the future of fashion and sustainability is? Do you think that momentum is going to continue?
People asking what should we do, where is it all going? Business is a bit of a big monster, it's so huge - this trajectory of growth. It's this bigger picture that needs to change. Everything needs reformulating. We're just consuming and producing so much. There are no resources to continue this trajectory of growth. World leaders, business leaders. Anyone of influence needs to come together. One solution could be people managing businesses. Let people come together and tell the businesses how we want our clothes made. Let every shopper on the high-street have an input.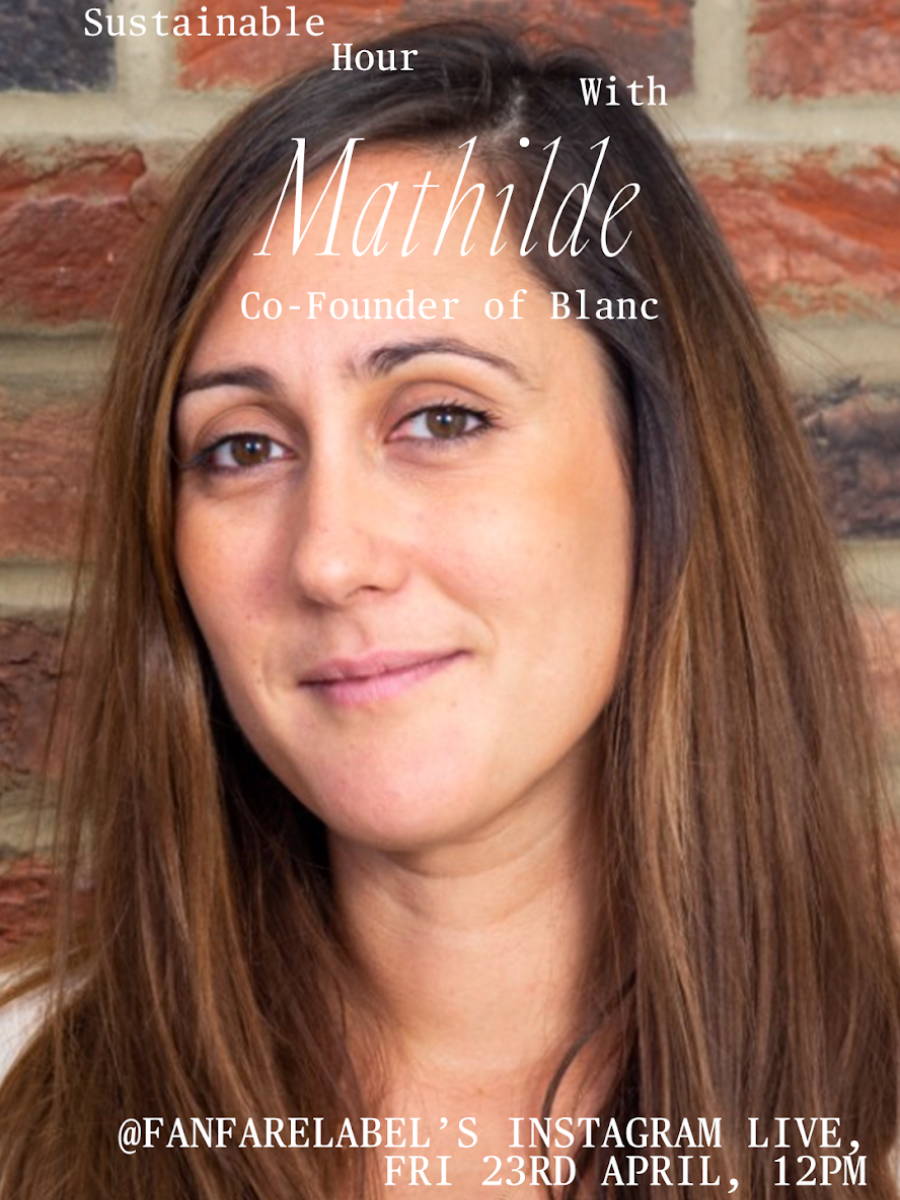 Can you tell us a bit about yourself and what you do at Blanc?
I am Mathilde and co-Founder of Blanc. We are a fashion aftercare specialist which means we take care of all your needs for your garment after purchase. Tailoring, repairing, laundry. We do this in a very sustainable way. Not just in terms of how our business is set up but also because our technology is eco-friendly, non-toxic. We do not use the incredibly toxic and harmful chemicals in services.
Do you want to give a few facts for why this is needed? One is the restoration and in other manners?
Even though it is called dry-cleaning it is not dry. You are sending all the delicate clothes into a bath of solvents. The reason it is called dry is because they put the machine at a very high temperature and they evaporate everything. What that means is that there is residue in the fibre of the garment. It is really harmful to the workers in the factories. We started thinking this cannot go on. This is a disaster environmentally and for humans.
The variety of technologies that we use are completely sustainable and non-toxic. We have the same result to clean and maintain delicate clothes but that is much better for the environment. Also restorations, tailoring. People are realising there is so much they can do with their wardrobe and what they already have.
Part of our mission is to know more. The dangers of dry-cleaning and also landfills. What happens in landfills is that all the chemicals seep through and go into the soil. Not just in the traditional manner but also once the clothes are in landfill.
Please can you explain why it is so important to care for your clothes and make them last longer - do you have any tips for care as well?
The first tip is to choose the right designer and the right design. Choose something that is going to last, of good quality and that is more likely to last. The second thing is to care for your clothes in the way that you clean them. There are things that are completely fine to clean at home. You need to know when you can or cannot put something in a dryer. Don't wait too long if you need to take it to a professional. Taking it to a professional soon before a stain has time to set in means the garment will last longer. If you're going to wash things at home, wash them at low temperatures. Thirty degrees is enough for most garments.
In terms of microplastics, please could you explain a bit more.
Microplastics are little particles of plastic that could easily get released into waste waters. Some do, some fabrics don't. A guppy bag is basically a bag that stops those particles from going to waste water. When you take them out of the wash, you can take those particles out of the machine without those particles going to waste water.
What is really important is circularity. The 're' is very important here. We cannot keep putting out the reinventory that we have already put out. To make it more important for brands. We have something called the Blanc Lab which does testing for brands and help them figure out what works for brands and what lasts. It helps circularity because it helps garments have a second, third life. It's all in the design process. It's not acceptable. We have to look at what has already been created, to use and re-design.
Can you recommend detergents for the home? 
We are big fans of Bio-D. We really believe that they have several options: hypoallergenic. They don't cost the earth, both financially and the ingredients in there. We also have an effective stain remover on our website.