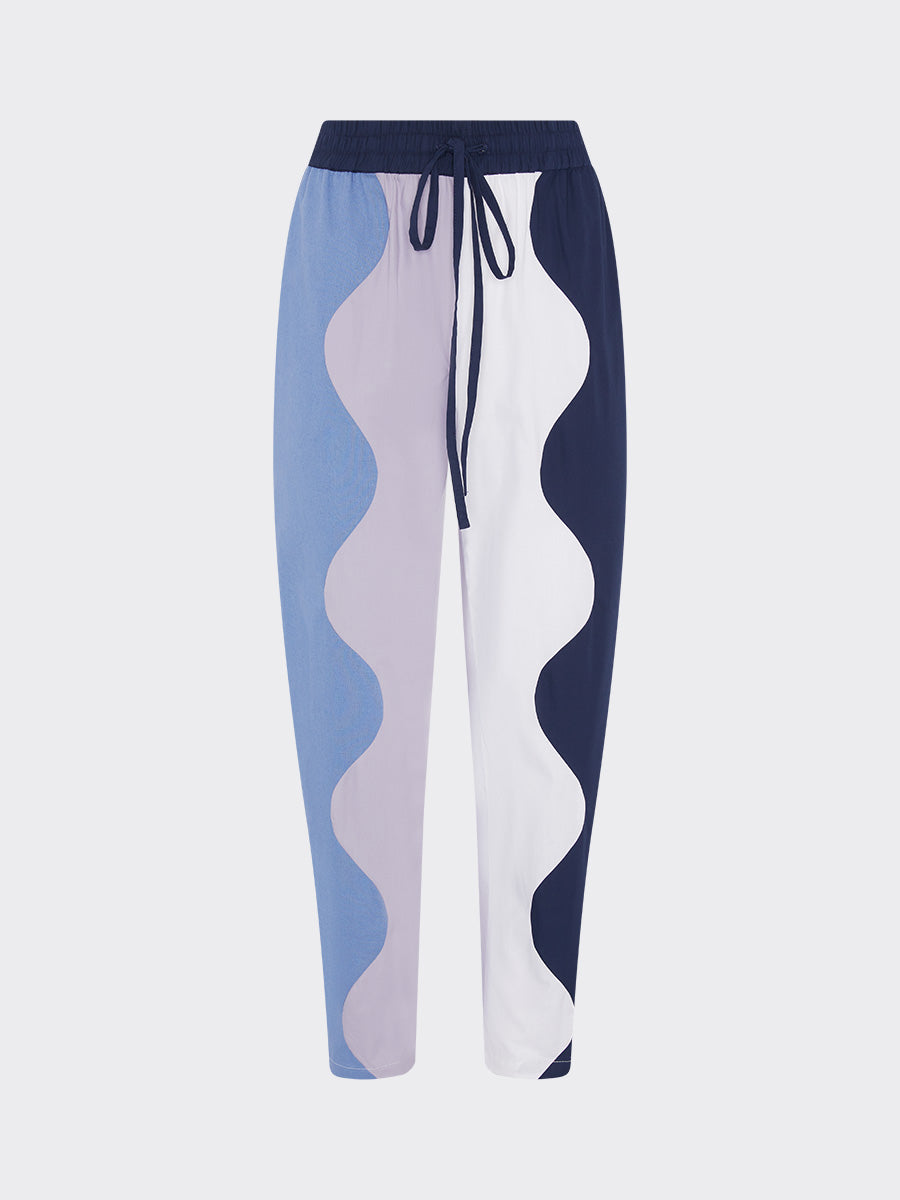 Monique Colour Block Swirl Trouser in Navy, White, Lilac and Blue
Monique Colour Block Swirl Trousers
Keep it fun and comfortable with Colour Block Swirl Trousers for any occasion. These colourful high-waisted organic cotton trousers from our new collection you can easily dress up with a white top and oversized blazer and some heels or dress down with sneakers and a T-shirt.
The collection
The collection draws inspiration from the colours, textures and shapes of nature creating curves and soft lines as a signature theme throughout the collection. Taken from natural occurring shapes, such as the meandering of rivers, roots of trees, wind and the natural formations of wild trails, these ergonomic features create pieces that are both vibrant and comfortable.
Made by hand in London, the items in the collection include colour-block shorts and top co-ord, as well as a trouser and top co-ord made from GOTs Certified Organic Cotton & OEKO-TEX Cotton as well as our staple sustainable linen. 
Mix & Match our Midsummer collection pieces for your most comfortable set this summer and many seasons to enjoy.
The Details
Made in UK

Made from a mix of GOTs Certified Organic Cotton, OEKI-TEX Certified Cotton, Linen and Cotton.

The GOTS certification guarantees that the cotton used has been grown in a pesticide-free environment with reduced water consumption by farmers who work safely and are paid a fair living wage.

STANDARD 100 by OEKO-TEX® is one of the world's best-known labels for textiles tested for harmful substances & chemicals. It stands for customer confidence and high product safety.

Sent in recycled packaging.

Fabric Composition Breakdown: Navy 25

% OEKI-TEX Certified Cotton, White 25% GOTs Certified Organic Cotton, Lilac 25% Cotton, Blue 25% Linen & Cotton Blend
Clothes don't have to compromise ethics or the environment, learn more about our circular fashion approach here.
Clothing for keeps
Our designs are made for the long haul and so a little care and repair will help extend the life of your garments.
Care notes
 30° delicate wash iron, steam or dry with low heat. No tumble drying.
Repair service
Fanfare Label offers a lifetime promise on all clothing. Should any of your products need a repair, please get in touch: info@fanfarelabel.com 
Circularity, longevity and innovation drive the design of every one-of-a-kind creation at Fanfare Label and our award-winning collections are the go-to for those seeking seasonless, contemporary clothing. 
Fanfare Repurposed
Our Fanfare Repurposed collection rescues textiles that would have been deemed waste and destined for landfills. We recycle, repurpose and redesign these pieces and transform them into style-led statement jeans you'll wear for life. 
Sustainably Created
Our Sustainably Created collection is made slowly from certified sustainable fabrics. We consciously choose our materials to ensure that each limited edition piece has an infinite life cycle and inspires a buy-to-last mindset.
Both collections are ethically made in the UK.
Ethics & sustainability are the pillars of the business. Fanfare Label pieces are made in ethical factories from organic & recycled materials. Even down to every thread, fibre & trim sustainability is considered, sustainability is a journey, and the brand is always looking for ways to improve.
When you buy one of  our considered pieces you are part of the Fanfare family & are joining us working on a solution.
Standard shipping:
FREE on all UK orders over £50.
Delivery within 3-5 business days. 
Express shipping:
Next day delivery if you order by 4pm (UK Time).
International shipping:
All international orders will be sent via a tracked service.
· Standard via DHL (5-7 working days)
· Express via DHL (2-4 Working Days)
For more information on delivery & returns please click the link here.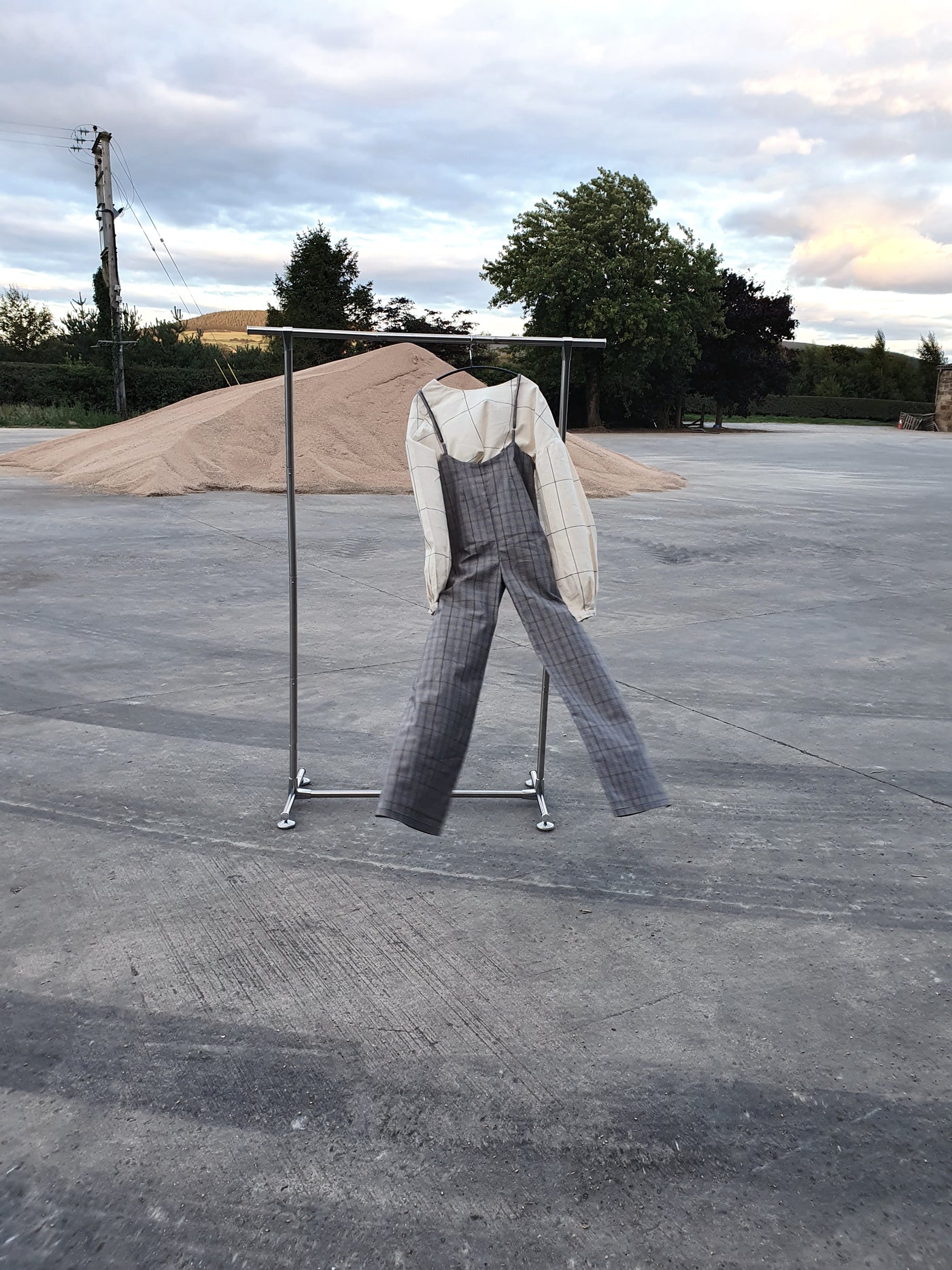 Our story
Fanfare Label is an independent sustainable fashion house leading the way for circularity and positive change. What others see as waste, we see as a starting point…
'This is what fashion could and should look like. Our clothing is an expression for change, fairness and freedom.'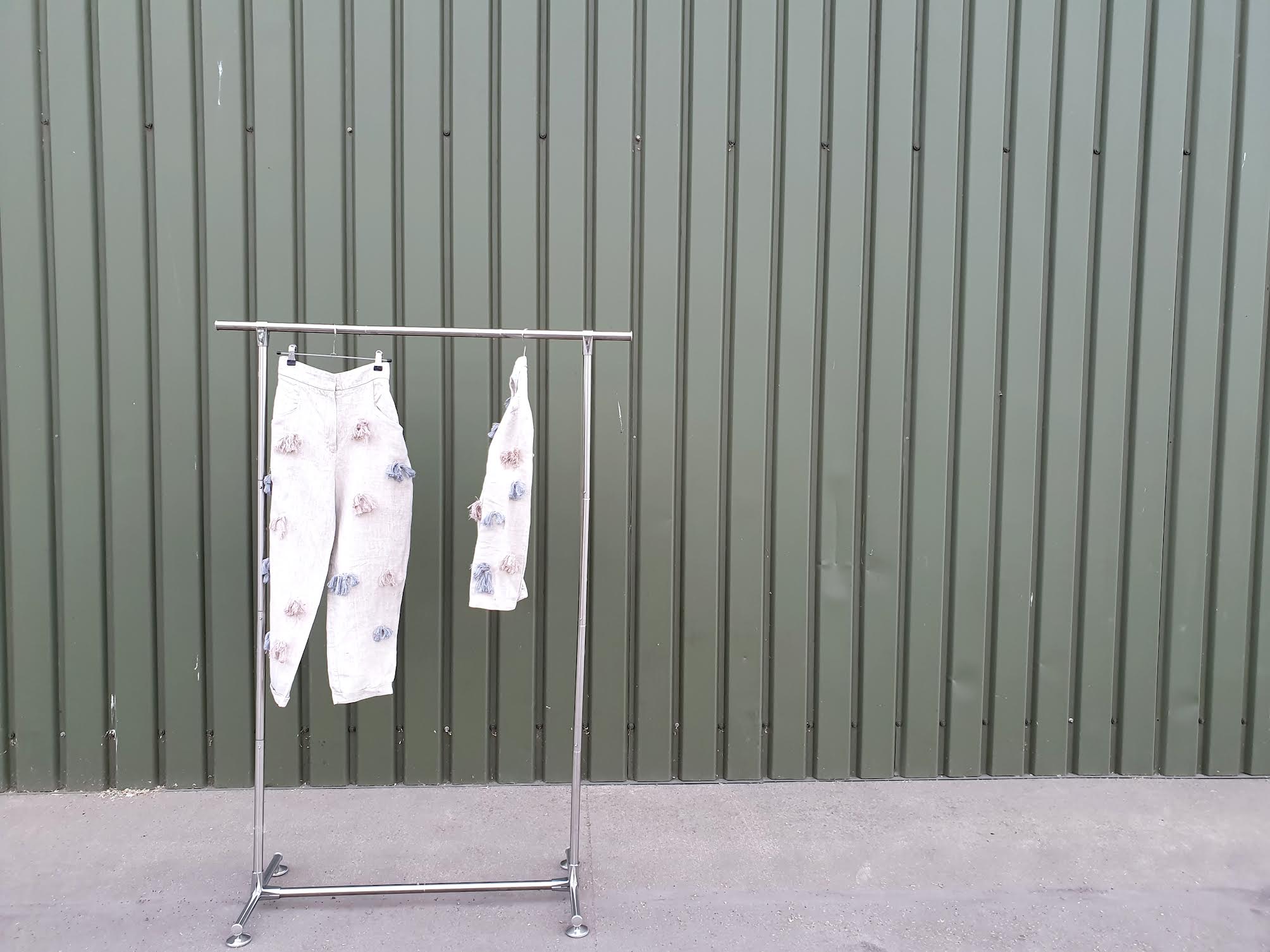 Our mission
Repurposed. Reused. Recycled.
We care for people and planet in equal measure. Together, let's redefine our relationship with clothes.