Fanfare Label is now selling on RETURE, the world's first premium fashion upcycling platform. The platform enables consumers to connect with designers that sell upcycled products; much like Fanfare Label.
Co-Founder and CEO of Fanfare, Esther Knight spoke to RETURE on Instagram Live this week to share her journey with RETURE and motivations for launching Fanfare, the opportunities of fashion upcycling and insights on how the industry can be a force for good; for people and planet.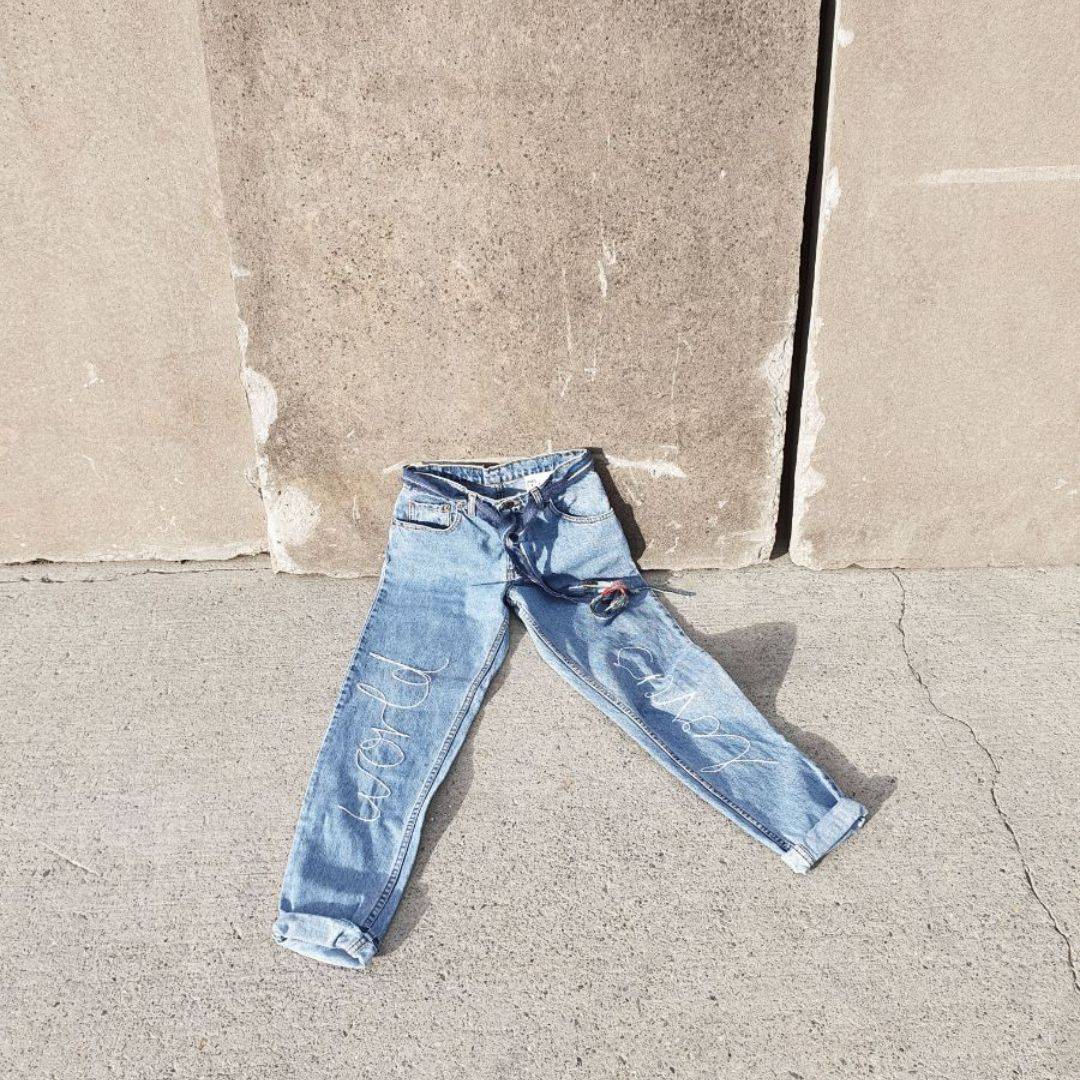 What was your journey to Fanfare Label?
My most recent job before Fanfare was working for Vivienne Westwood. I didn't want to contribute to anything that wasn't going to do good for the fashion industry. Fashion is one of the most labour intensive industries. It is about promoting positivity. I just want to spend my career and my experience working towards a better future.
You saw first hand the negative. Was sustainability on the horizon or did it take first hand?
It was my first job outside of university where I knew it wasn't quite right. When working for a particular high-street brand, I did say that we need to start working towards sustainability. We have an opportunity to be part of that change and change from within. Everything that I have done has been championing sustainable fashion. That has always been a principle that I have taken with me. It leaves me thinking about it and the process; it wasn't as though it was a trend. What if we make that something positive and being more considerate about the environment around buying clothing.
Could you tell us an insight into the brand?
It's about a 360 approach to sustainability. You have to design with sustainability in mind. Some brands always have an impact to some extent. There was slavery within fashion supply chains; especially fast fashion. That we are supporting locally, we're people focused. As you start going into sustainability, not to consider that would be bad practice as well. That is why we have a recycled collection. Taking wastage that would have gone to landfill and making them into products. Good quality jeans are made to last a lifetime. So much goes into creating pieces. Not creating microtrends. We produce garments with ethical fabrics and the certification side of the business.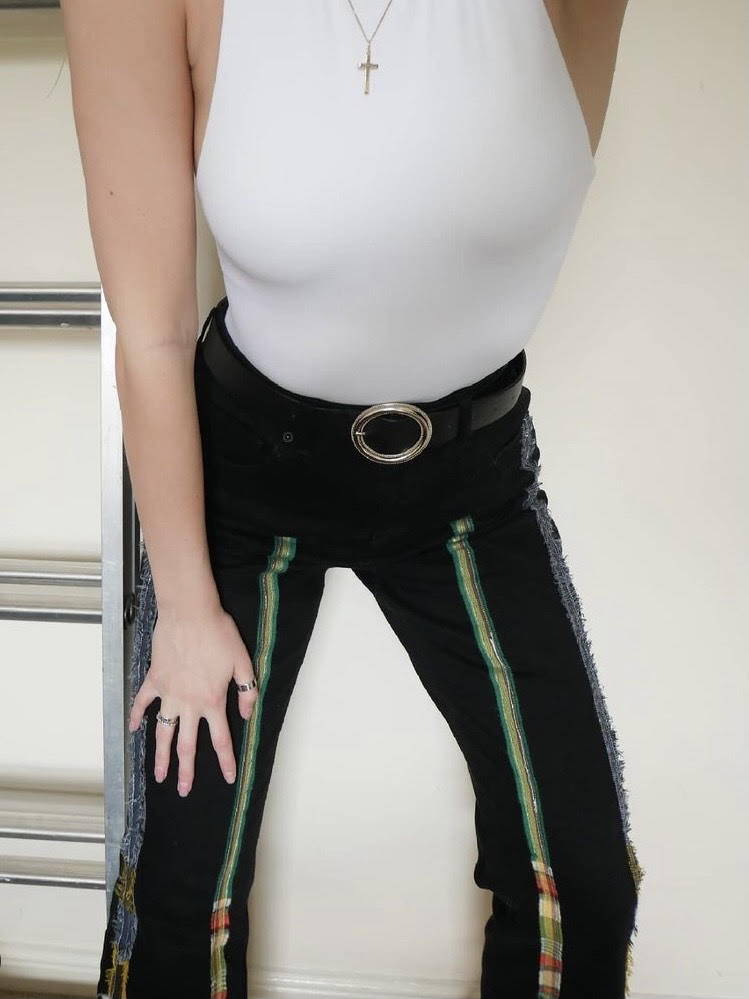 One of the questions often asked - is the message buy once and last for a long time a contradiction to business models in general?
I've got pieces in my wardrobe from my grandma from high quality pieces. Being a designer is that you can create a product that is meant to last. We're not promoting this constant consumption. It is so important not to regard any clothing as capable of being thrown away. That gives a wider opportunity to develop with the market. Instead of being sustainability - it is the catalyst for invasion and better working practices.
Do you find it challenging to fight perceptions about upcycling to something that is chic or cool? How do you change that connotation?
It's about promoting quality, contemporary clothing first. Cool clothing that you want to wear and you're going to look good doing it. That message of creating contemporary clothing first. Promoting the message that it is okay not to know. That are starting out in the sustainability journey. To be more educational focused and not to make people feel guilty.
What's a piece that means a lot to you?
I actually chose a piece from our brand, a jumper with offcuts from a designer brand.
We have jeans with two stripes. You have to design based on materials, they drive the design process. Everything lasts longer, it's good quality.
 Are you working on anything at the moment? Do you have traditional seasons?
We work on a seasonless basis. We have been featured at London Fashion Week for two seasons in a row. Expanding on our recycled range. We're more innovative to do loads of different things. We aren't just focused on one area, we need to do something to help the environment. That could be upcycling or using environmentally friendly materials.
One of the different options is upcycling with you, working your magic. Is longevity a problem for business?
It doesn't have to be if there are these additional services. It's all in the uniqueness of the product, not buying something because it's a mirco trend or in fashion right now.
What is one of the key processes you would want to remove from the fashion industry?
We need the government to step in to remove the greenwashing issue. We are only going to see complete change in the industry from others doing well. Fast fashion is on a different level, churning out clothes often. Supporting smaller brands that have started with the right values.
Coming out of lockdown, are you optimistic? Are you doing face to face events?
I am definitely, we've been in lockdown for a year, it's been a tough year for everybody. We've got fashion week, new collections coming out. We're seeing a real movement towards that. In terms of events we haven't got anything planned yet.
Was it scary going out on your own to start a business?
I wouldn't have done it if I wasn't confident, the scary bits come a little later. So many things happen that you don't anticipate. The high highs and the low lows, I just had to take a step and do it without living in regret. Things have obviously been a lot harder and running a business is hard, there is no going around that basically.
What is one thing we can do to be more sustainable in our everyday lives? A small action that makes somewhat of a difference?
Mine will be fashion related, consider your purchases. How long will it be in your wardrobe? Be considerate with what's in your wallet. Choose with consideration.