London is the centre of the creative world, London combines the commercial with creativity, a new wave of Birtish talent and British Couture. You really get the British mentality of be who you want to be no judgement. Diverse faboulous casting on the runways which just adds to the richness of London fashion.
We saw the Queen Elizabeth II Award for British designs go to Bethany Williams. "It is really important that people who are designing with the passion are getting the support from the start". Camille Charriere, Influencer
Fashion Week's are about the new trends, what's hot, the new looks but there is really no escaping the fact that right now, this year the biggest topic is sustainability. There was an air of activism seen on and off the catwalk at LFW this year. For the first time London is the first major fashion week to go fur free. This was one of the most astonishing LFW's to date as Riccardo Tisci's #newBurberry, Victoria Beckham, Grace Wales Bonner and Amy Powney's Mother of Pearl all took to the stand to declare their positions on class, Brexit, race, sustainability or animal cruelty.
Victoria Beckham confirms that her brand will no longer be using exotic skins and she is soon to launch an ethical beauty brand not tested on animals. Versace, alongside Burberry, Gucci, DKNY, Calvin Klein, Michael Kors, Jean Paul Gaultier, Diane Von Furstenburg and DKNY, announced fur will no longer feature in its collections.
ROT $ = Rotten financial system. Is all about over consumption it self destructs; favours the already rich by taxing the already poor. Democacry will only thrive when we can achieve a favourable balance between the wealthy and the poor. 
The buy less logo means profit goes to charity.  "An intellectual is someone who wants to make the world a better place".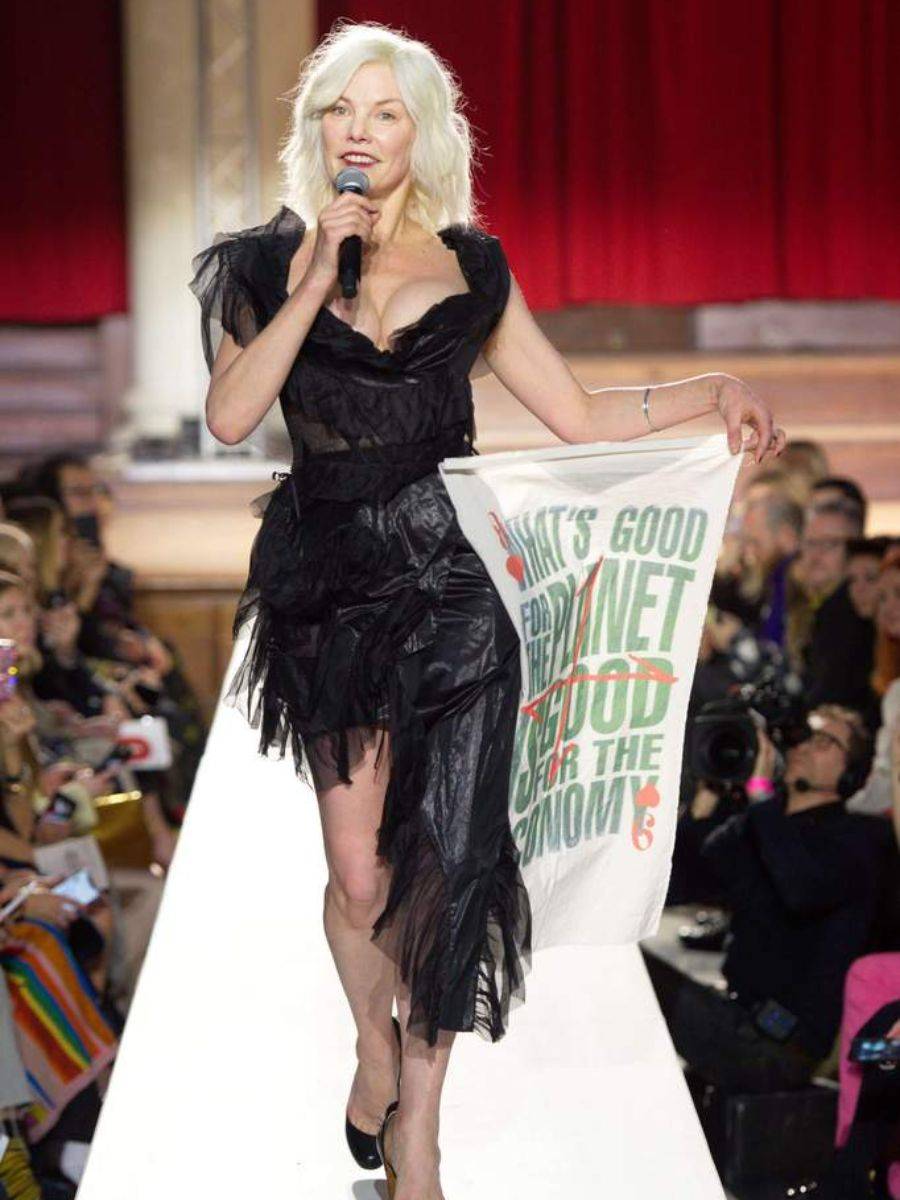 The show went onto explain that fashion is all about styling, buy less, choose well and make it last. "Democracy isn't working we need more heroes, we need more thinkers. Culture is the enemy of consumption, if we had culture our world would be in peace our ethos would be peace. Popular culture is all about spirt and mass consumption".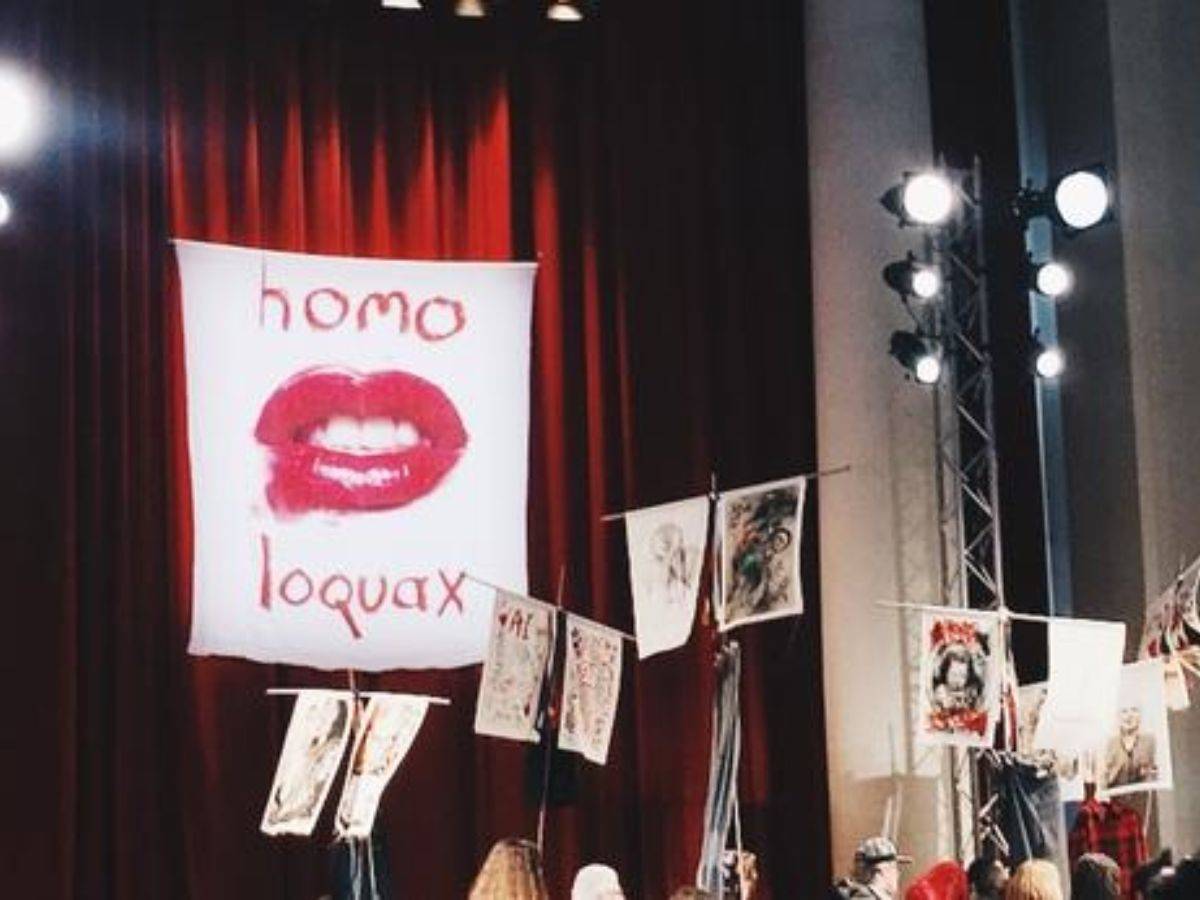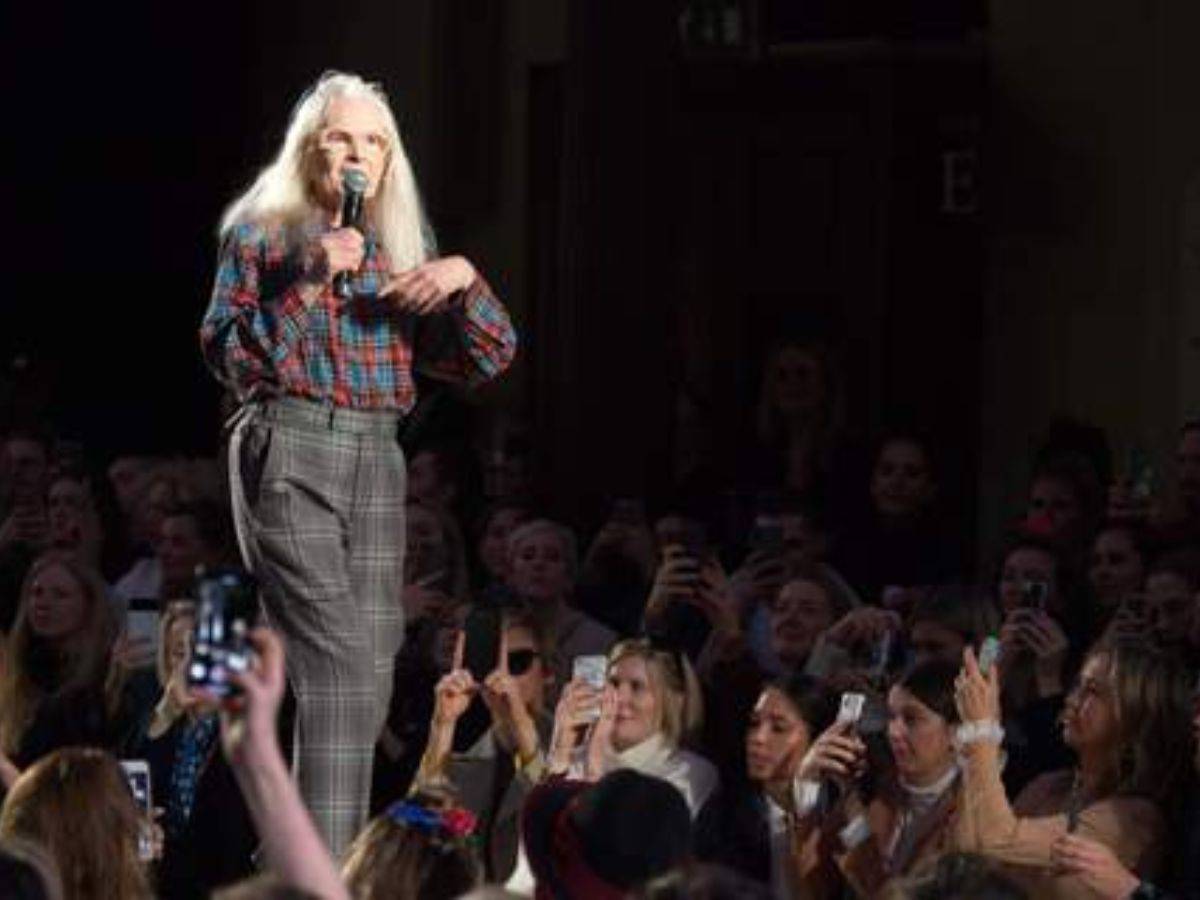 Vivienne explained that we were all in the mindset that the future would get better automatically and all we have to do is follow the latest thing. "Consumption of ideas is good, consumption of opinion makes us ignorant".
"Years of inaction have brought a crisis to this world. Big oil corporations are happy if we go over the edge, they are killing the planet. Lets do something that benefits the 7 billion people living on earth and Mother Nature rather than benefitting the already rich 1%. Stop climate change and tell the truth".
The political talk continued and at the opening of London Fashion Week we saw models like Adwoa Aboah standing with survivors from the Grenfell Tower fire. All wore T-shirts that read "72 dead and still no arrests? How come?"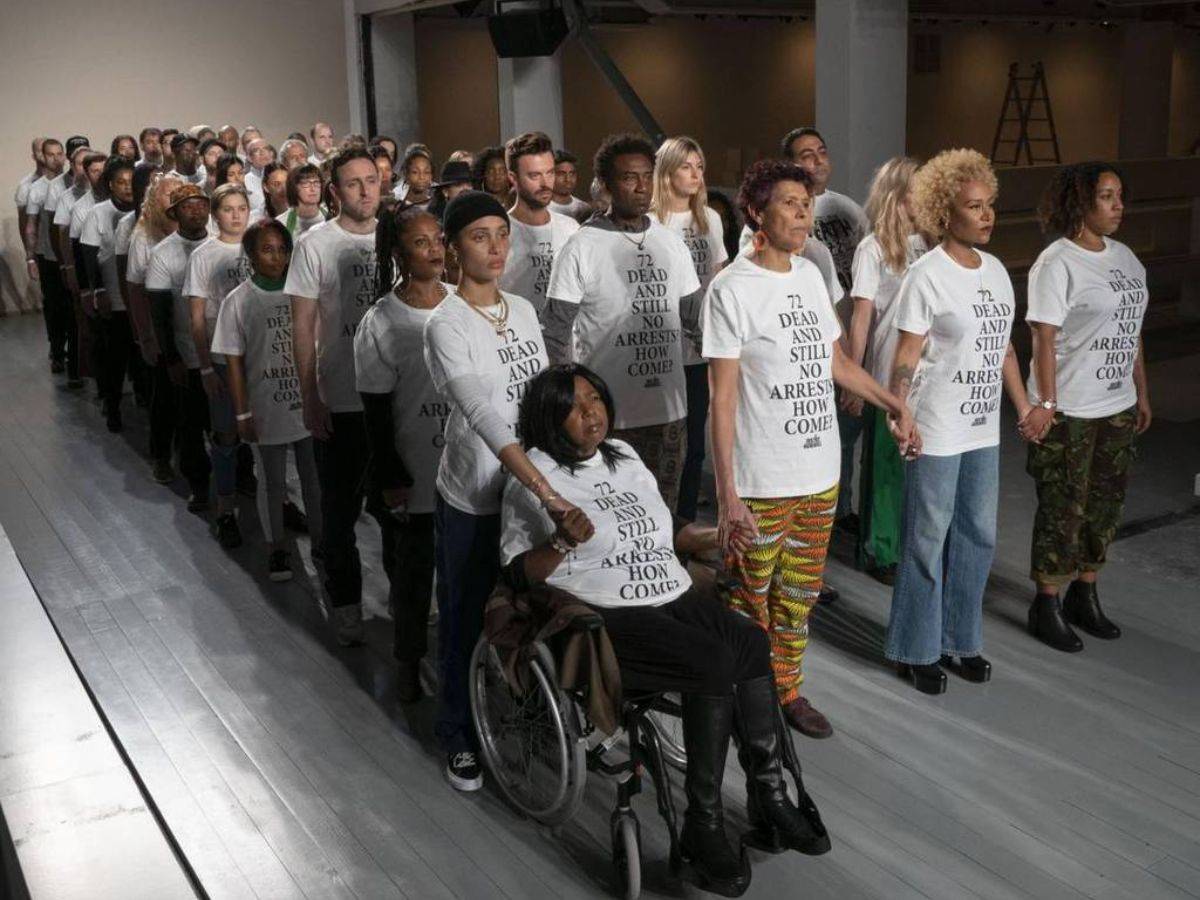 Young fashion talent is the lifeblood of the industry, fashion thrives on the new and the exciting and this is where it comes from. "There should be a focus on sustainability and responsible fashion".  Zoe De Pass, Blogger.
"It is now a requrirement that everyone is thinking about and not just an added bonus". Ellie Pithers, Vogue.  It is not just about fashion brands making the changes but it is about an entire mindset change. We do not have a long time to sort it out.
Off the catwalk we saw climate change protestors from the environmental action group Extinction Rebellion. They want to see efforts made to reduce the impact of fast fashion. The climate change protest part two took place the next day – with marchers attempting to block fashion week attendees in order to highlight the toll clothing production takes on the environment.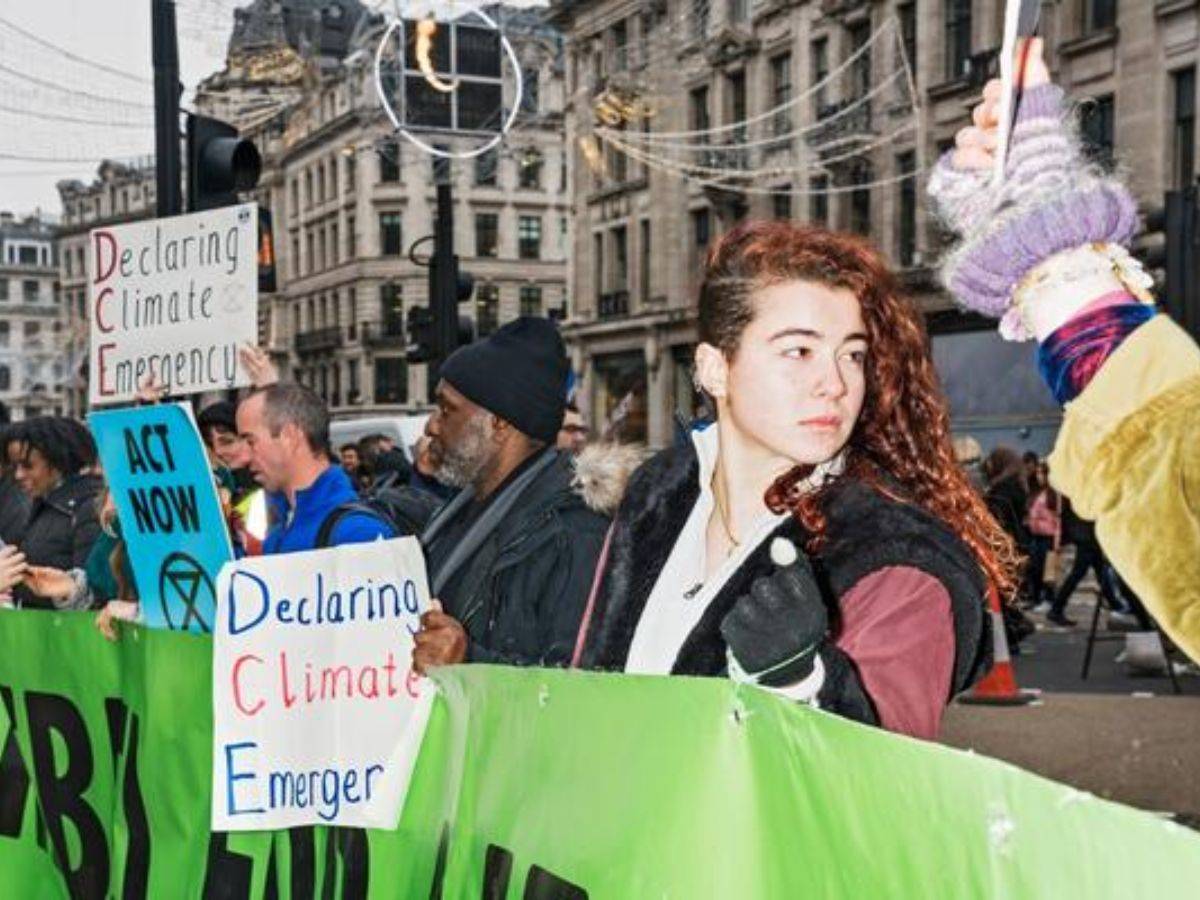 We listened to The Wardrobe Crisis podcast on sustainable fashion weeks with Clare Press and Evelyn Mora. Evelyn Mora created Helsinki Fashion Week she says in the podcast that we need to stop seeing sustainability as a group or a choice it needs to be a must. A new norm - its a fashion week not a sustainable fashion week, everything should be sustainable. The world is changing and the new generation are changing things. 
Many people do not know how to live sustainably so they showcase to people the options out there. How to look good, feel good in a sustainable way. Within the fashion week there was a break for yoga, the drinking water was extracted from a machine that turns sea water into drinking water.  The food was from a company called Loop, which visit 10 restaurant a day and collect waste food. They cook with a purpose: to make incredible food, yet, but also to get the word out about exactly how big a problem food waste is around the world. 
"It is a fact we are over using our resources, we have plastic in our bodies, we are completely ruining our planet and it is not too far away where will we suffer some serious social and environmental disasters - you can't exclude yourself from it. We are trying to support that process and make a shift".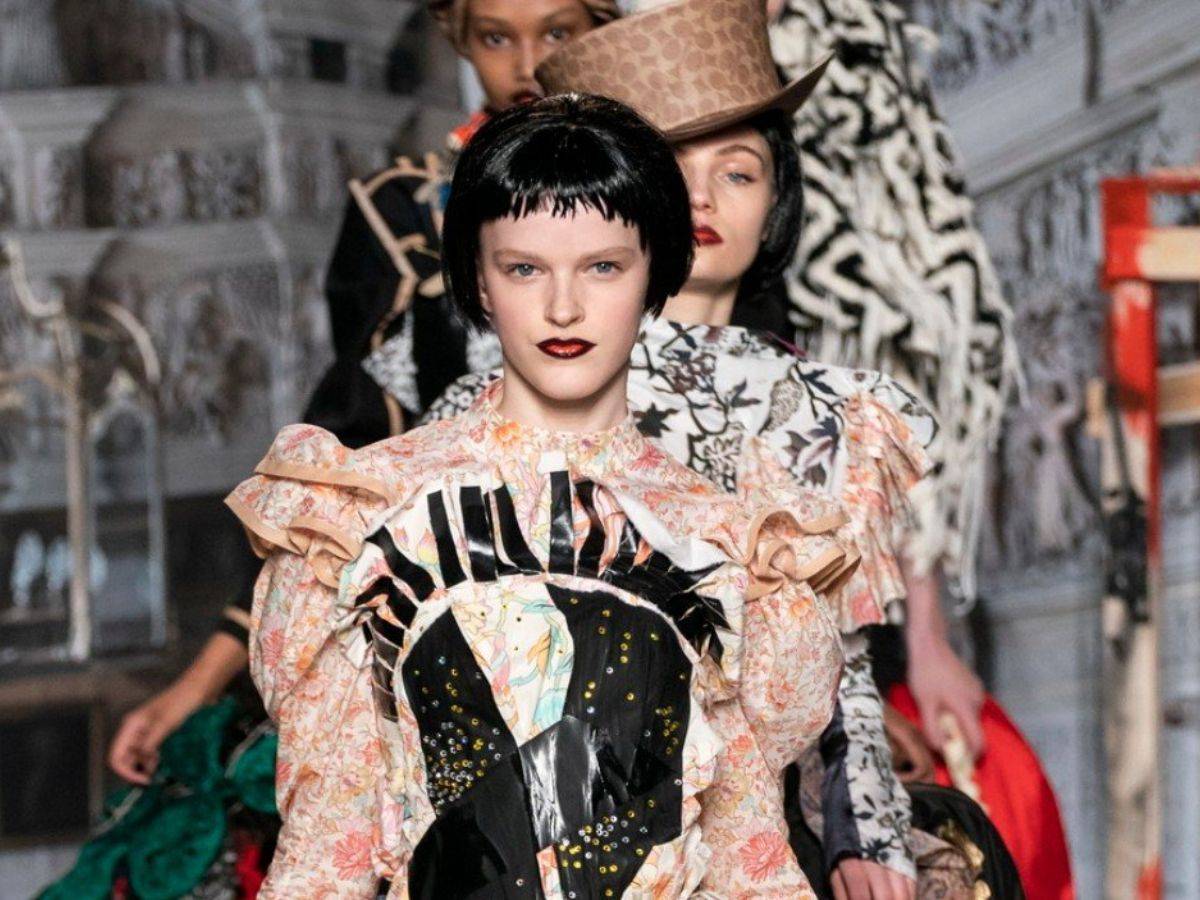 In response to the reaction the Planet Earth documentary caused last year looking at plastic, BBC Earth announced at London Fashion Week that they have launched a new brand to "place sustainable fashion at the heart" in collaboration with the British Fashion Council and Mother of Pearl. A short film was presented followed by talks on the #SustainableMe project.
"we are breathing and eating our own plastic clothing" – phoebe english on fashion's ethics
Phoebe English, the south-east London designer set a presentation space to highlight her continued push towards sustainability. Through the use of puppets she set the environment where visitors could study the construction and technique of each design process.  Pieces explored the use of recycled and waste materials, fabric-saving methods and sustainable fabric sourcing. 
Each year 100 billion items of clothing are produced globally using 1000s of different chemicals yet 3 out 5 items end up on landfill.  We need to start to consider every purchase, buy quality and consume less. We can recycle and up-cycle and we can change our attitude to fast fashion.
Each year 100 billion items of clothing are produced globally using 1000s of different chemicals yet 3 out 5 items end up on landfill.  We need to start to consider every purchase, buy quality and consume less. We can recycle and up-cycle and we can change our attitude to fast fashion.
"Fashion is one of the world's most polluting industries. Implementing and executing sustainability targets must be a priority of every fashion leader today". Keely Stocker, Drapers
Recently the government announced a 1p charge per garment on companies to help reduce textile waste. This charge targets the large companies that produce in volume. The industry cannot continue to allow these practices that damage people and our planet however, we are not convinced that the 1p charge will bring overall benefit. Just because a retailer offers smaller quantities of more-expensive product does not necessarily mean that they have more sustainable practices. Volume retailers are not the only ones that have been found to have unethical practices. 
"A reform on tax to reward companies that offer clothing repairs makes sense. Mandatory environmental targets for fashion retailers with £36m-plus turnover is a no-brainer and any retailer that has not already set out its sustainability ambitions, is already well behind the curve".  Keely Stocker, Drapers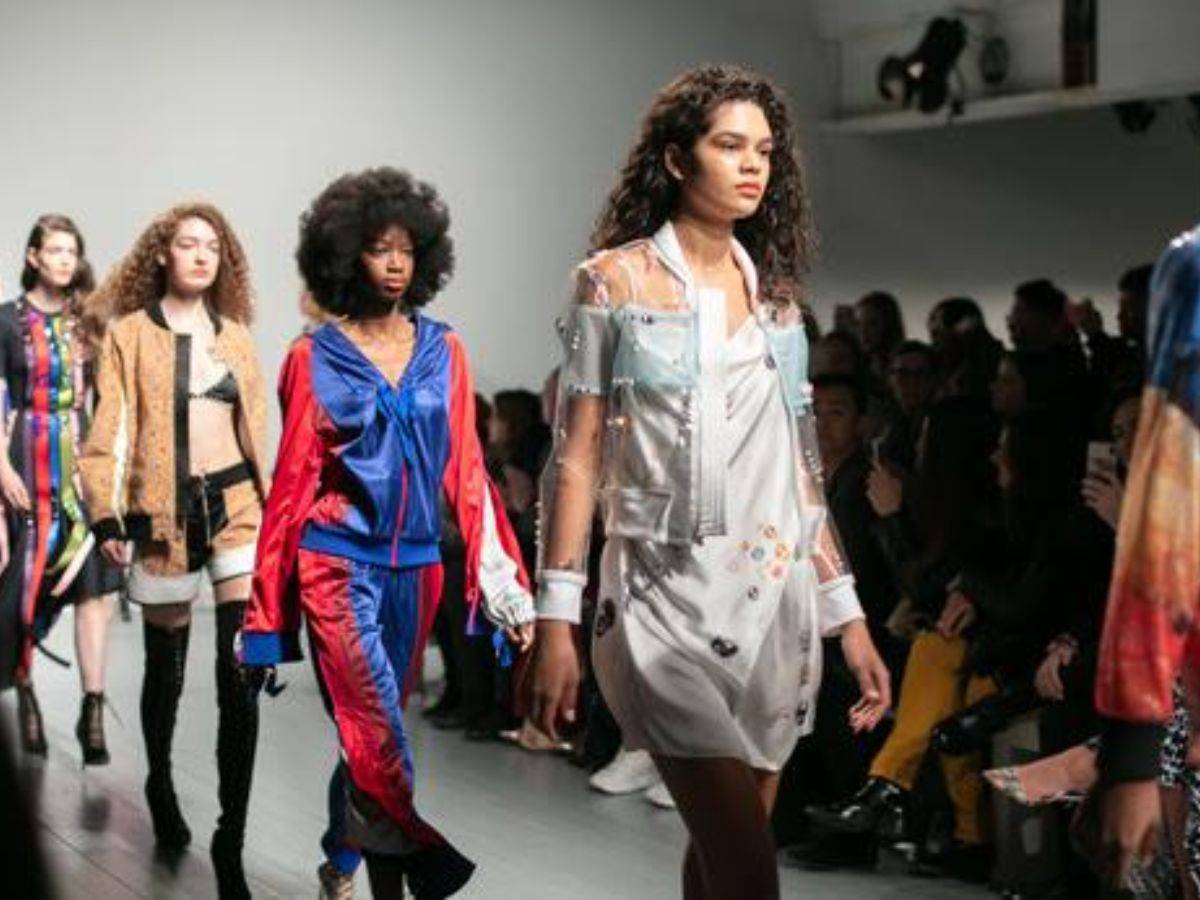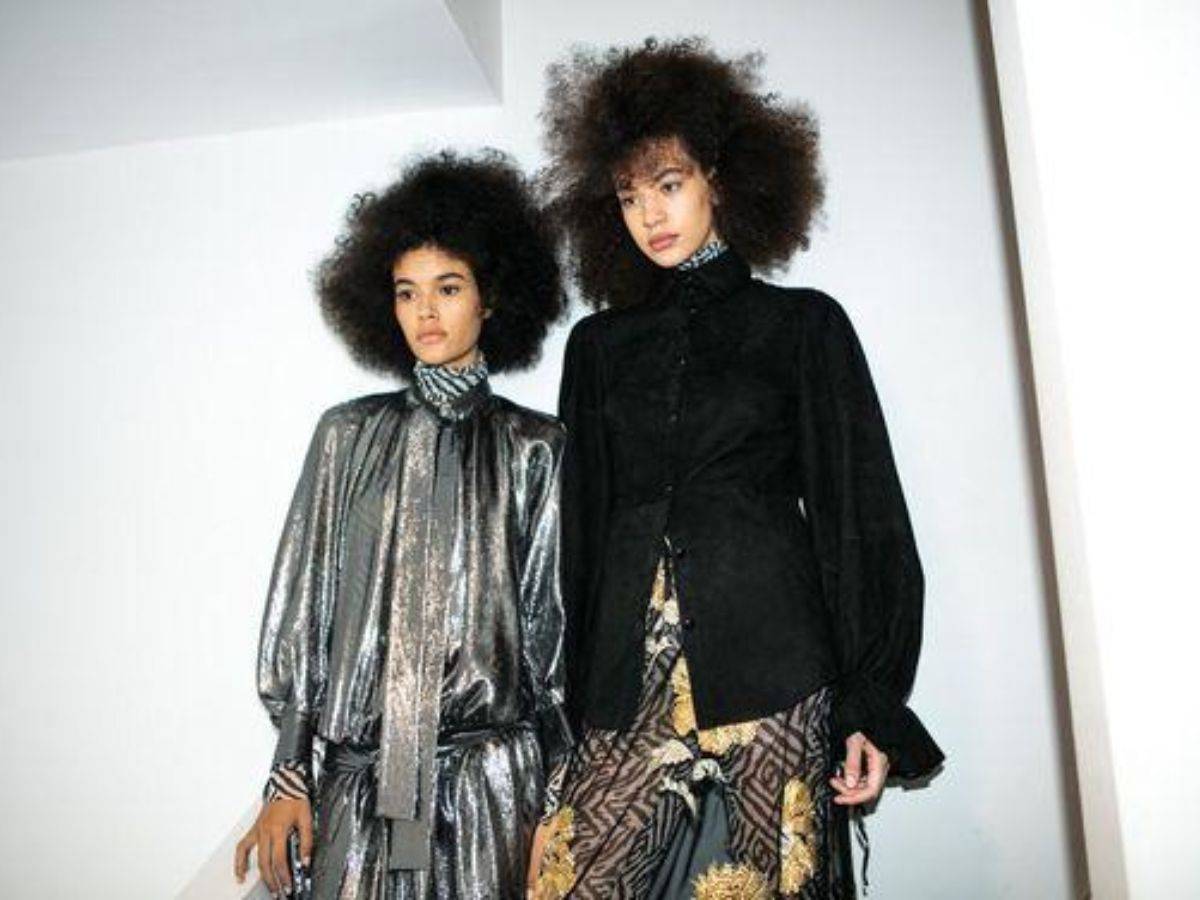 With consumers, designers, students and politicians moving towards a more sustainable future this year could see the fashion industry transformed. Fashion has immense power, power for meaningful change. The British Fashion Council could use its influential position to start this movement, we have already seen huge steps towards it this February 2019, watch this space for September.