On the back of Anti Slavery last week, we are joining our partners; The A21 Campaign, International Justice Mission and Freeset Global to educate our community on the issue of Human Trafficking.
This week provides an opportunity to raise awareness of human trafficking and modern slavery, and encourage government, local authorities, companies, charities and individuals to do what they can to address the problem. It was created by the Anti-Slavery Day Act, a Private Members Bill introduced Anthony Steen CBE, now Chair of the Human Trafficking Foundation.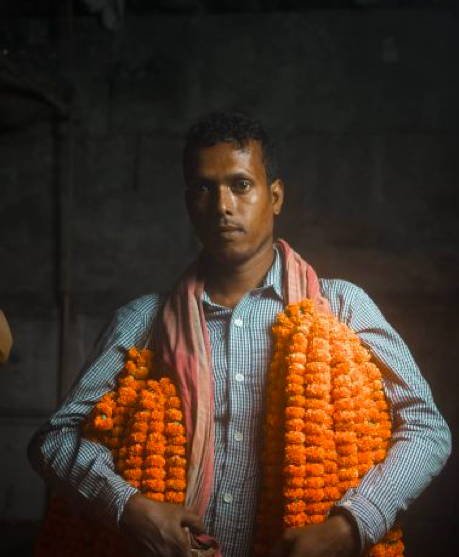 Image: International Justice Mission
Facts

There are 40+ million people trapped in slavery today - that's more than ever before.

There are millions enslaved in the world today

Human trafficking generates an estimated £115.25 billion GBP per year

Over 70% of detected human trafficking victims are women and girls

Roughly 1 in 4 human trafficking victims are children

There are estimated to be more than 136,000 victims of human trafficking in the UK.

In 2019 there were 2,360 British children identified as potential victims of modern
slavery in the UK.

In 2019 the majority of victims referred to the National Referral Mechanism were male,
with labour trafficking being the most common form of exploitation in adults and
minors.

(Sources: Global Slavery Index (2018), United Nations Office on Drugs and Crime (2018),
International Labor Organization (2017))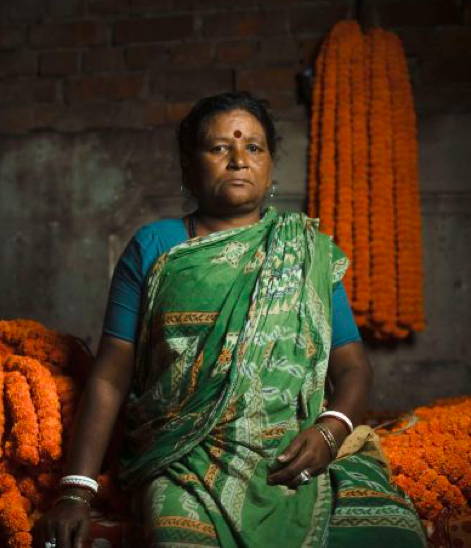 Image: International Justice Mission
It doesn't have to be this way. The world is at a tipping point. It's more urgent than ever that we join together to make freedom the new normal. "The pandemic is a once-in-a lifetime opportunity to reset and to build back better," UK Anti-Slavery Commissioner, Dame Sara Thornton, said in her report last week, "I hope that we take it".
Why does this relate to fashion you say? Well this movement that is very important to us and our mission of righting the injustices that disproportionately affect low-income workers in the global fashion supply chain, including the victims of human trafficking and modern slavery.
Labour Trafficking Is In Fashion Supply Chains
It is the recruitment, harboring, transportation, provision, or obtaining a person for labour or services through the use of force, fraud, or coercion for the purposes of involuntary servitude, debt bondage, or slavery. The top industries that have a high risk of exploitation include technology, clothing, fish, cocoa, sugarcane, construction, agriculture, healthcare, hospitality, housekeeping and facilities operation, transportation, and warehousing.
That's why on this year's #AntiSlaveryDay, we're making a stand. We will fight for an end to slavery and violence and for safe communities and functioning justice systems FOR ALL.
International Justice Mission
International Justice Mission is a global organisation that protects people in poverty from violence. IJM is the largest anti-slavery organisation in the world, they have 27 offices spread across 19 countries with a shared mission of protecting people from crimes like human trafficking, child labour, violence against women and children and police abuse of power.
They don't stop at rescuing people who have been abused. Their goal is to prevent the violence from happening in the first place. That's why IJM collaborates with partners to serve individual survivors of violence—and then pursue sustainable improvements in the justice system to protect others, and to build communities where all people can expect to be safe and protected.

We are seeing evidence that IJM's model works—that enforcing the law deters criminals and protects people from violence. IJM and partners have brought over 53,000 men, women and children (as young as 6 months old) to safety, and we've seen slavery decrease by rates between 70-80% in places where we've worked.
Human trafficking is a huge global problem that causes untold suffering and human rights violations. On any given day, it is estimated over 40 million people are victims of modern slavery, but the real figure remains uncertain, and there are risks of it increasing.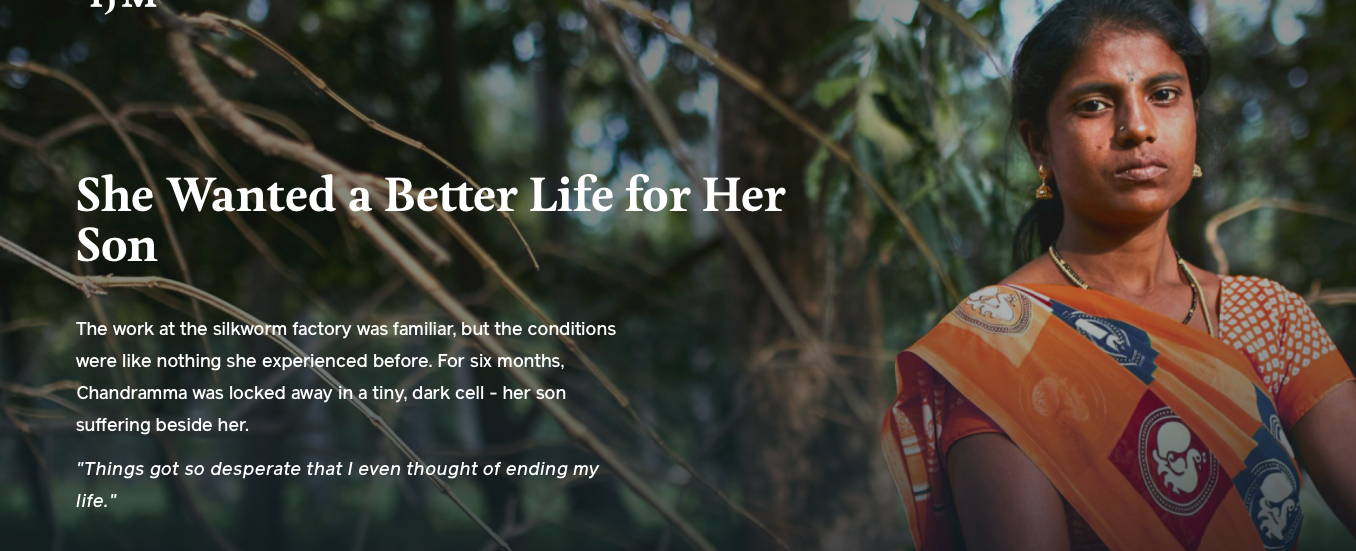 Each year, human trafficking generates around $62bn more than the profits of the world's most profitable company in 2019 (Saudia Aramco) and around two and a half times that of Apple's in the same year.
There is hope for the future, survivor stories , like Pachaiyammal (pictured), are leading the movement to end forced labour. Pachaiyammal was trapped in a rock quarry in South India for twelve years, but today, she is the one sending rescue.
"I have one dream: to eradicate slavery completely from my country. I invite each of you to join hands to fight against slavery completely." – Pachaiyammal Arul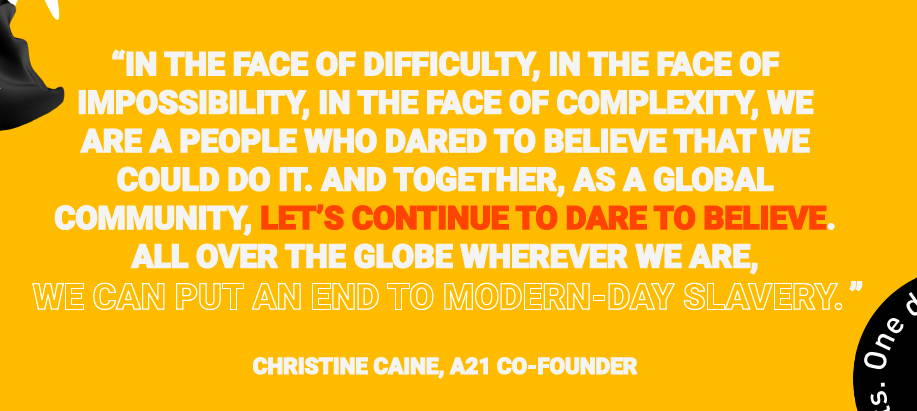 The A21 Campaign released their Global Anti Trafficking Gathering last week.
Link to A21's Broadcast: https://online.brushfire.com/a21
This event will equip you and your community to make a difference right now, right where you are—for freedom. One day. Thousands of abolitionists. A global gathering to equip, train, and inspire people everywhere to take action for the one thing that unites us all: the belief in freedom for all mankind.
They have listed below three key areas you can help with:
Post
Spread the word in your community that human trafficking exists and there are ways to see it and report it. Hang up posters in your local coffee shop, community billboards, and universities. Use one of the social media posts provided, or create your own story about why you are taking action to see human trafficking abolished.
These posts and posters have been created to raise awareness that human trafficking exists in every community around the globe. They provide examples and indicators so that people know how to identify a potential human trafficking situation and they display the phone number that anyone can call to make a report. We have seen over and over again that awareness is key in identifying victims of human trafficking and investigating potential perpectrators.
Advocate
Contact your elected officials and government leaders. Encourage them to incorporate human trafficking awareness, education and training into your local community.Send an email, write a letter, make a phone call, or sign a petition to influence change. Let the people in positions of authority know that human trafficking exists and is an issue that needs to be addressed. This can be through passing new legislation, increasing funding allocation and implementing programs to educate those who are vulnerable, train professionals in the courts and on the frontlines, and support survivors with aftercare housing and services.
Learn
Educate yourself about human trafficking and how you can take action to stay safe and be a part of the solution. Then, share what you have learned with others.Participate in the training course or view the virtual presentation to learn more about human trafficking so that you can teach others. Become familiar with A21's education resources and download the free safety guides so that you can have conversations with your loved ones.