We recently attended the 9th Future Fashion Expo hosted by the Sustainable Angle, which is the largest dedicated sustainable selection of organic, plant-based and recycled fibres. It showcased the latest innovations in fabric development while promoting the positive benefits of using sustainable materials with low impact, both in production and post life.
The four key criteria for selecting materials with low environmental impact are:
Biodiversity – Grown and sourced materials that preserve natural ecosystems and have organic and regenerative principles
Energy – Suppliers that transition away from fossil fuels, both raw materials and energy
Water – Materials created in systems that reduce, reuse and recycle water and ensure water systems are not depleted or polluted
Waste – Reducing and eliminating waste at every stage of the textile production process and adopting circular models to regenerate waste into new materials.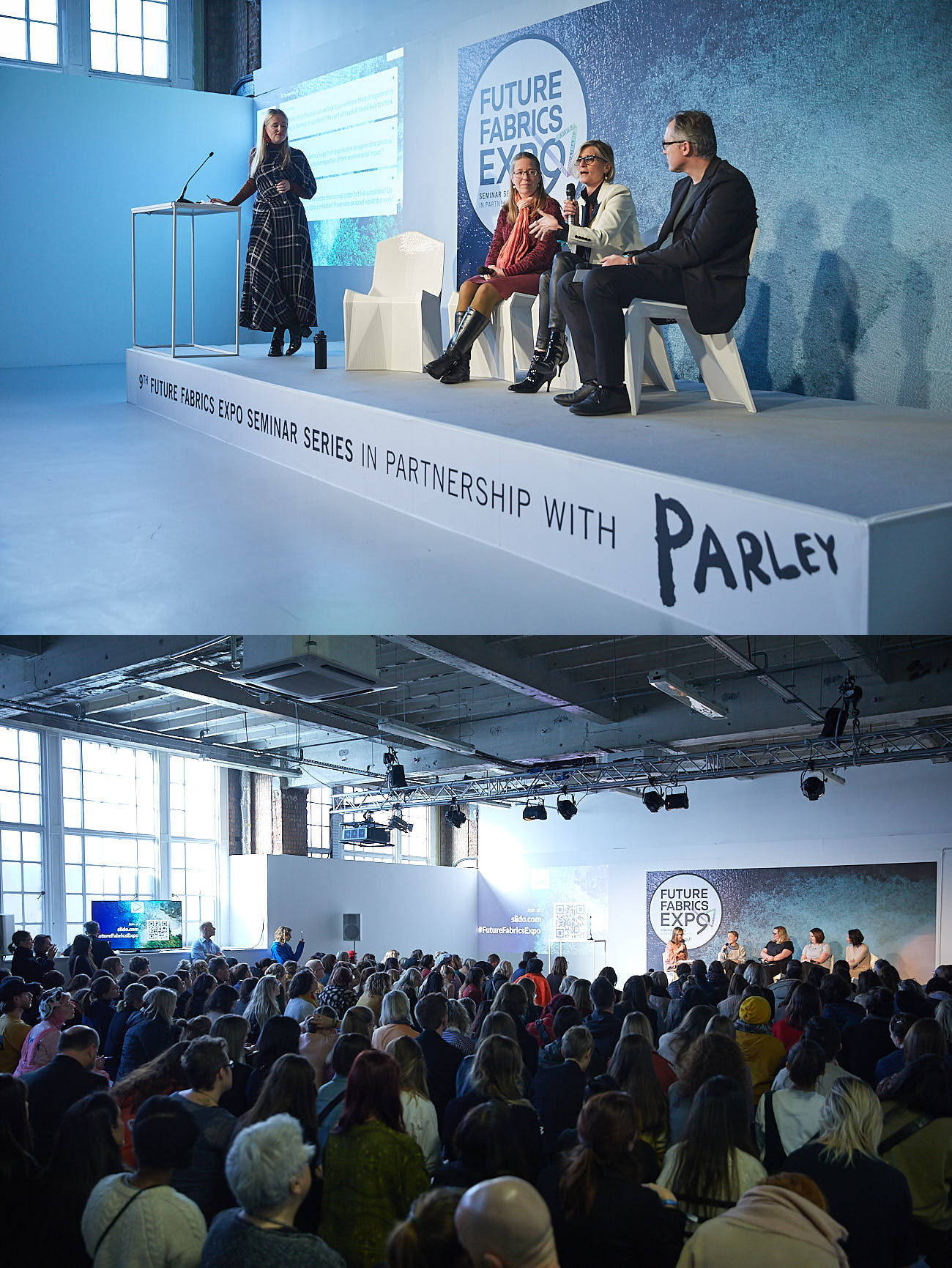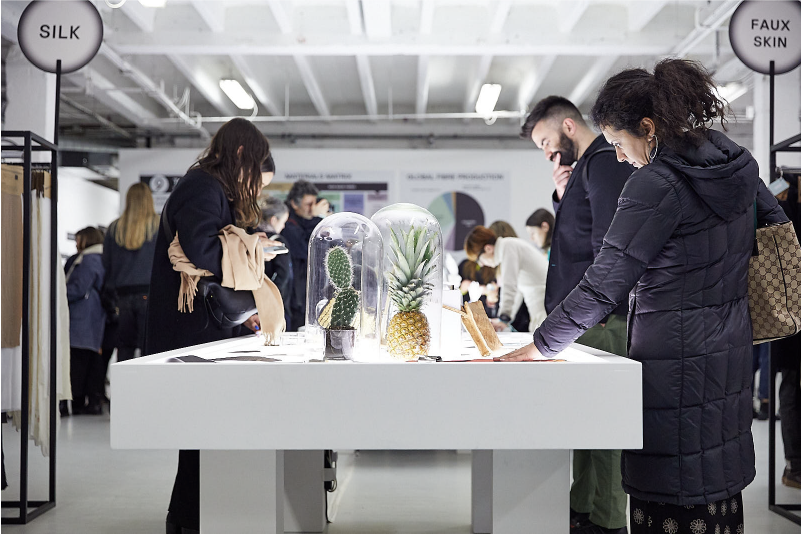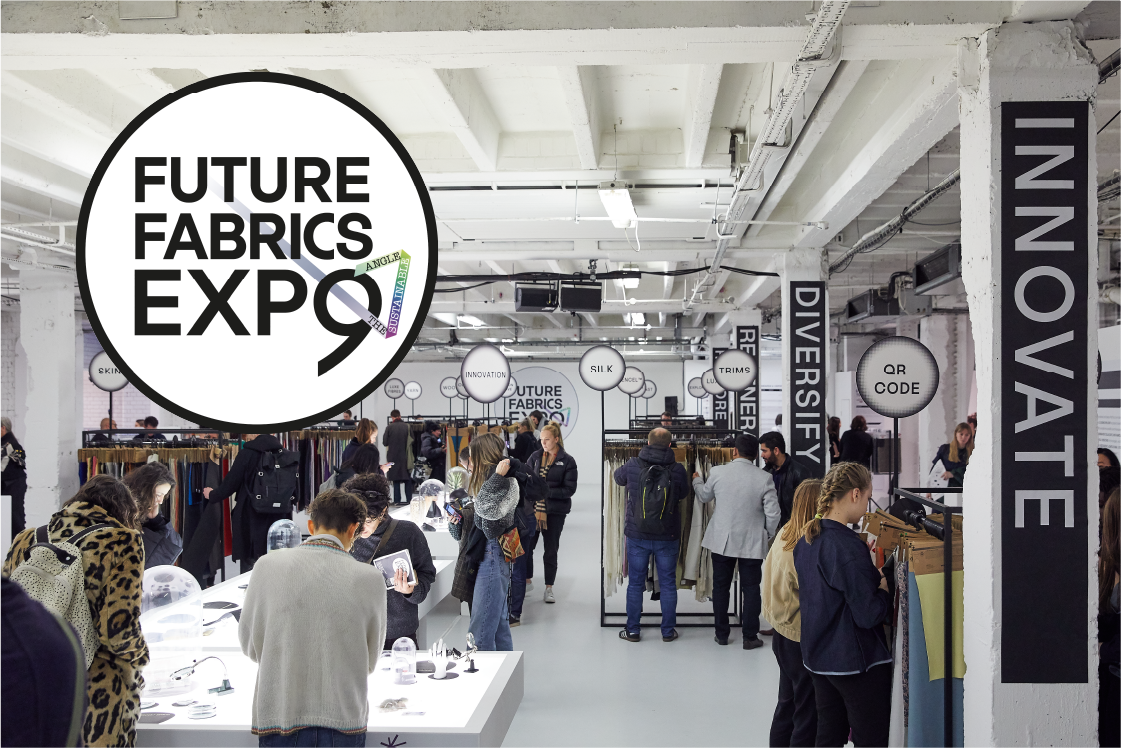 Fabric Focus
Utilising the power of natural sources was a strong focus at the show.
Suppliers showed a vast range of Bast Fibres, which include flax, hemp, nettle and bamboo. These cellulose fibres are drawn from the inner bark, or skin of the stem of certain plants. Over intensive cotton farming has led to a renewed interest, as their properties are similar to cotton, but several times stronger.
There were a variety of leather alternatives on display, from the established quality Pinatex, which is already widely used in the manufacture of bags and accessories to new varieties. Pinatex is made from the long leaves surrounding the pineapple, which are a waste byproduct of the pineapple harvest. Desserto is a bio based vegan leather grown in Mexico, with the raw material coming from the pricky pear cactus. We found that surprising sources were used to mimic existing fabrics.  Faborg have made a vegan wool called WEGANOOL from Caiotropis – a medicinal weed plant, while Wool: Re-Crafted have made an alternative to wool from discarded pineapple leaves, which redesigns waste back into the cycle of the circular economy.
Innovation was also shown through ways of redirecting waste streams such as ocean plastic to create new product. Parley for the Oceans have a long-standing collaboration with Adidas to create trainers with an upper made of filaments constructed from reclaimed and recycled marine plastic waste and fishing nets.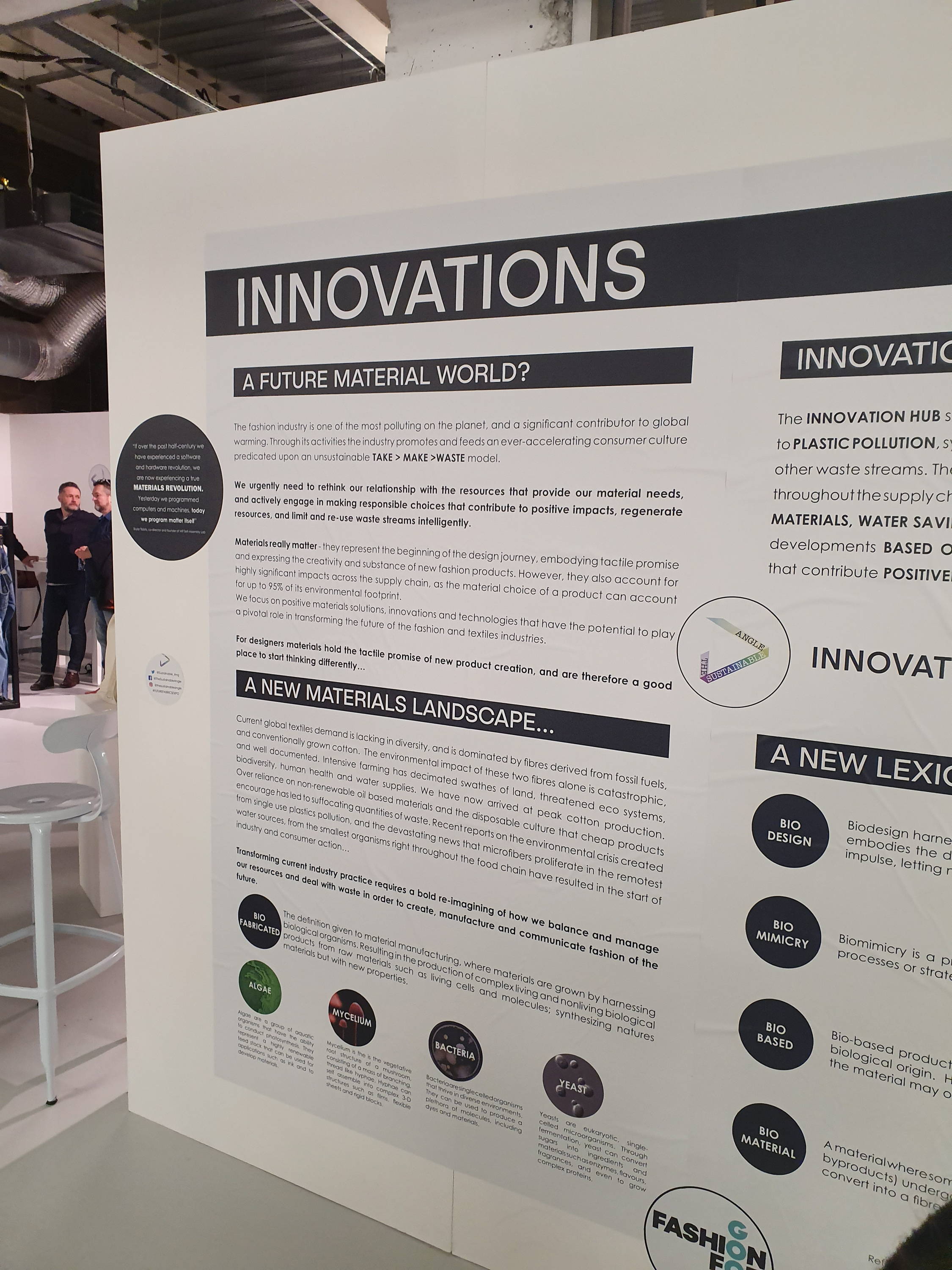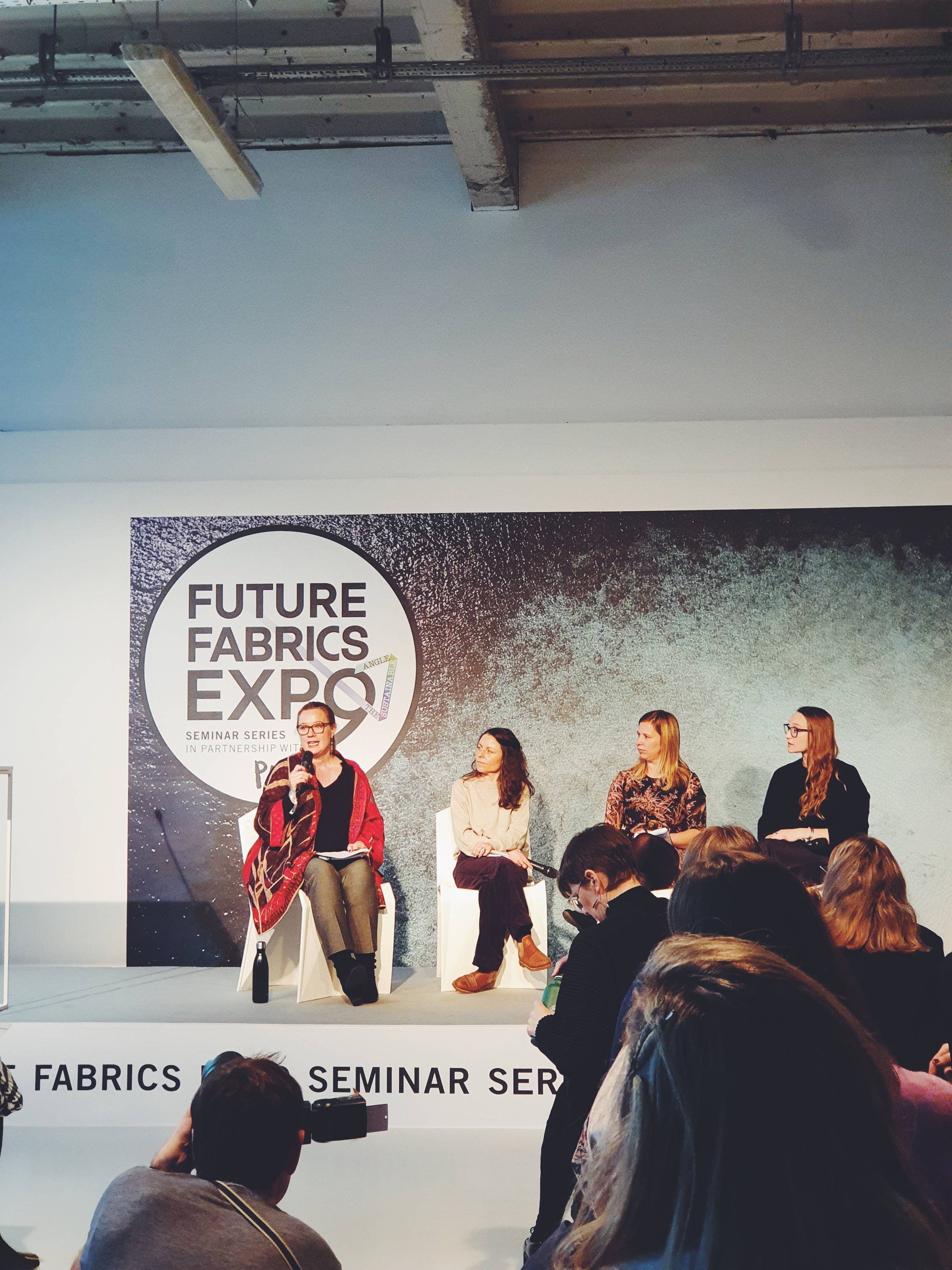 New methods of making fabrics incorporate Bio Design, which harnesses the power of living materials to let them grow to form fabrics or garments. An estimated 60% of textiles are derived from petroleum based plastics and in an effort to reverse the negative effects of the fashion industry, interdisciplinary designer Charlotte McCurdy created After Ancient Sunlight an algae based bio plastic which is renewable and pulls carbon directly from the atmosphere thereby creating positive effects for the environment. Mycotex has developed custom made clothes from mycelluim mushroom roots where they are grown and moulded to create garments engineered to fit the body. There is no waste as the designer only grows what is needed and when finished the garment can be returned to the earth and will biodegrade.
We love listening to Clare Press' podcast 'Wardrobe Crisis', where she interviews designers and changemakers in the industry, so we were inspired to listen to her chair some of the seminars taking place at the fair.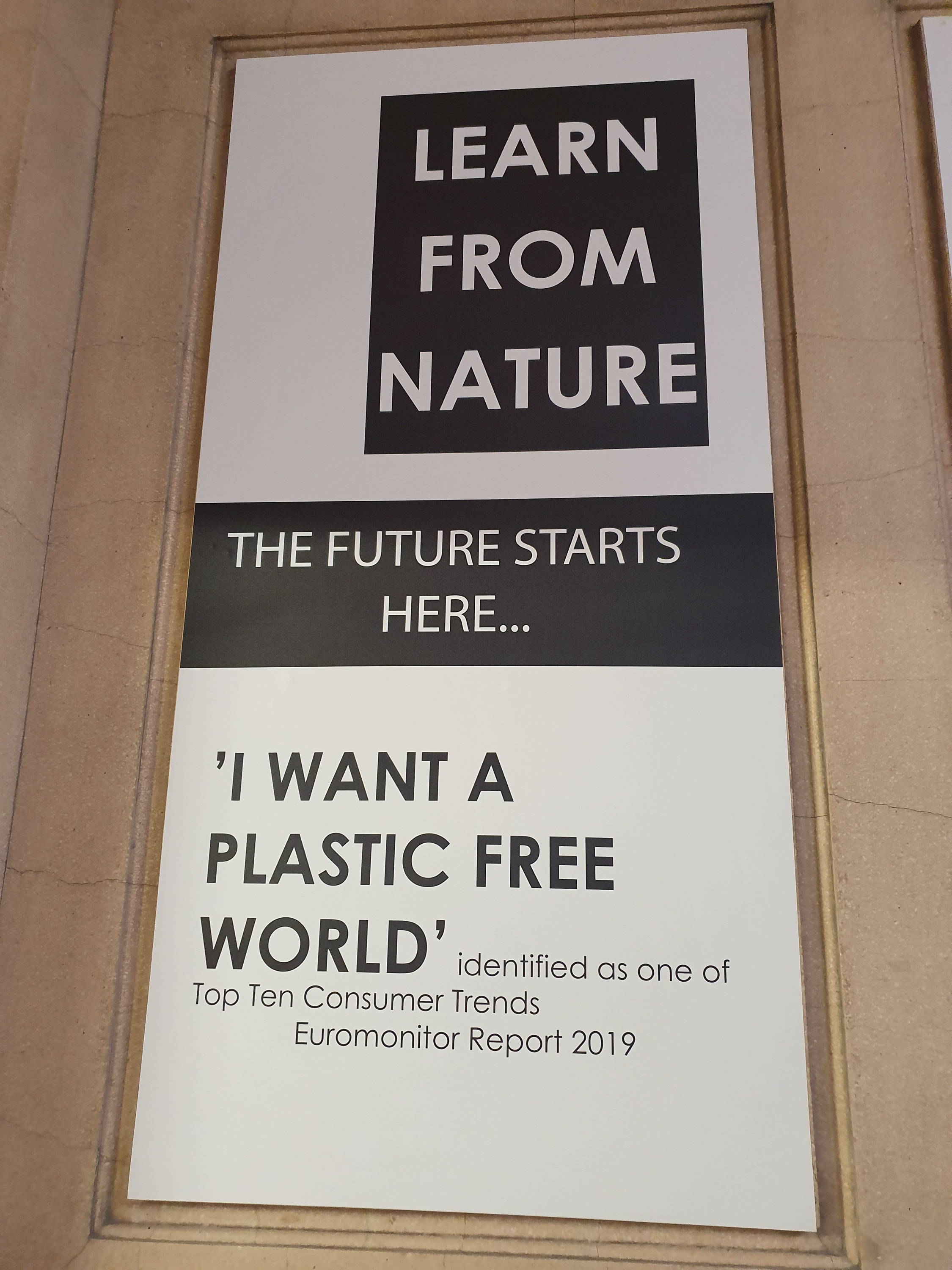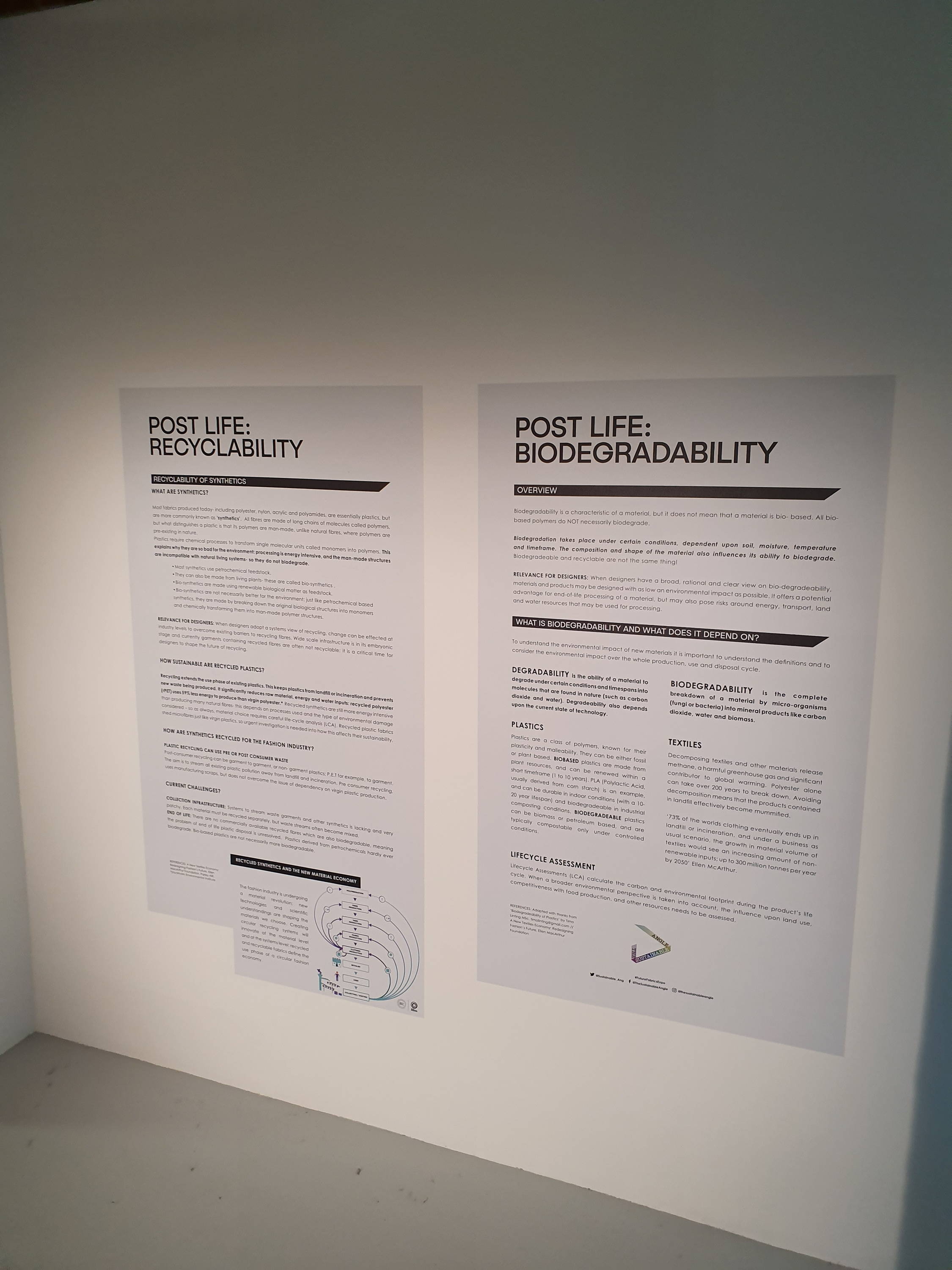 Embedding innovation in the supply chain brought together some of the leading voices in the industry to explore how disruptive and radical innovation can help us to find solutions to the polluting effects of the industry. Kering have shown themselves to be sustainability leaders in the luxury sector and have committed to reducing their environmental impact by 40% by 2025. Christine Goulay from the Kering group admitted that sometimes this means making bold commitments, even when the method to achieve it is not immediately clear. Kering have developed an Environmental Profit and Loss tool which records the cost to the environment through factors such as CO2 output, water, land use etc. which can then be converted to monetary value to quantify the use of natural resources. Kering shares this methodology with other companies as they recognise the importance of sharing information in order to implement change.
Both Christine and Emma Scarf from Fashion For Good agreed that when big brands support innovation and take risks, it enables startups to grow and spread their ideas to a wider market. The consensus was that there need to be incentives for risk takers and on the other side, those who choose not to use ethical or sustainable practice should be penalised.  Fashion For Good offer support and a platform for businesses that focus on transformation and innovative practice. Understanding that sustainability should be embedded in practice at all levels of the process is key. Emma described how companies they support like Returnity are focusing on the unseen waste of the supply chain and are designing reusable and recyclable bags for shipping.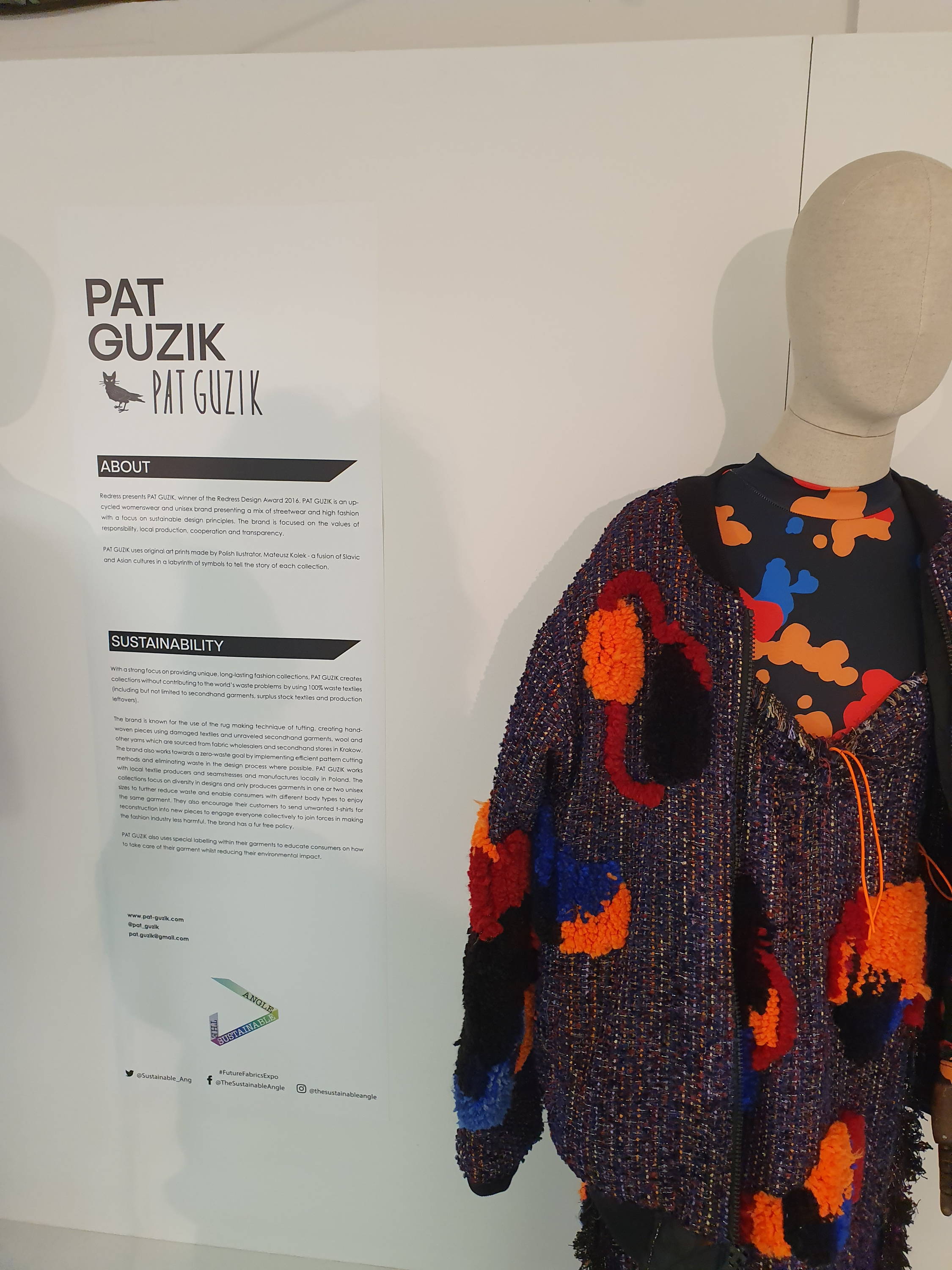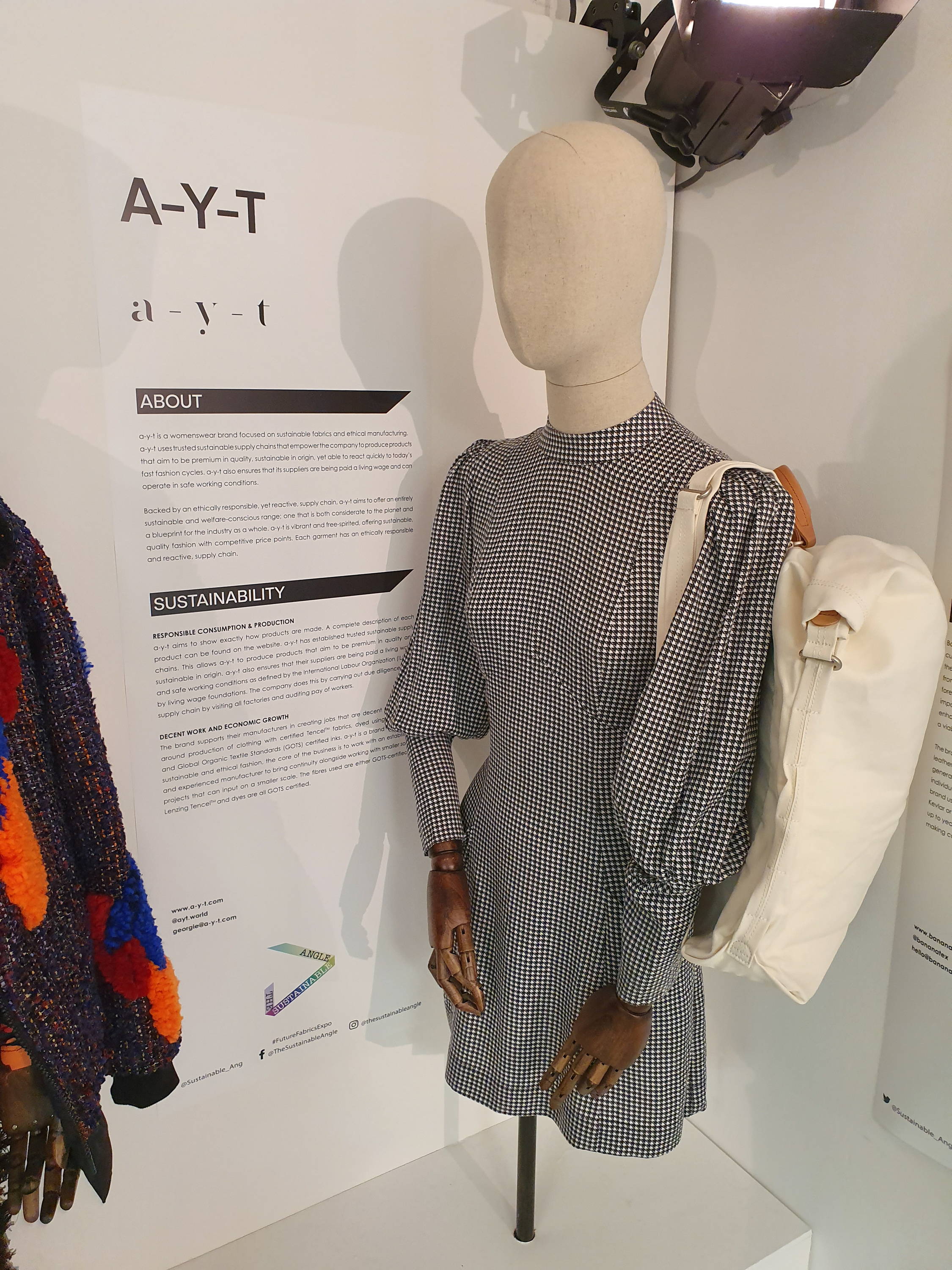 Returning to the theme of fabric innovation, Dian-Jen Lin from Post Carbon Lab explained how naturally produced dyes from algae enable the coated garment to photosynthesize and absorb carbon dioxide. Effectively you are wearing a living garment, so it would require a spritz of water now and then! Innovations like this are exciting but the speakers explored the idea that scaleability was a key issue, as we are yet to know the impact of new ways of producing material like this on a large scale.
We caught up with key campaigners in the industry who are leading the way for change. Fashion RoundTable advocate for sustainable change and growth in the global fashion marketplace, engaging both consumers and those within the industry through events and workshops. Bridging the gap between government and business is a key part of their work, through chairing parliamentary questions and retail future proofing.
"From front row to front bench, we seek to connect the fashion industry to policy leaders, in order to affect long-term change" –Tamara Cincik, CEO and founder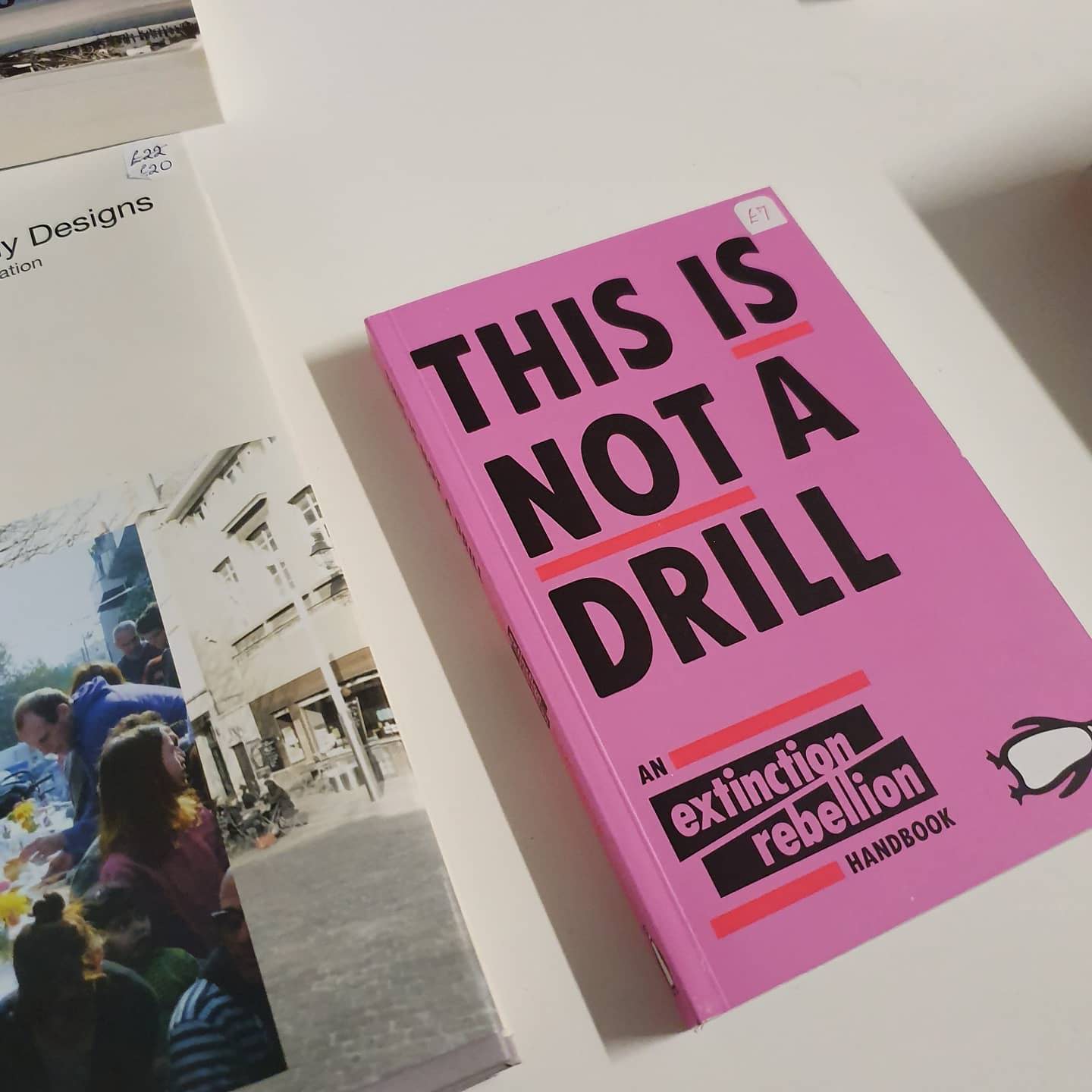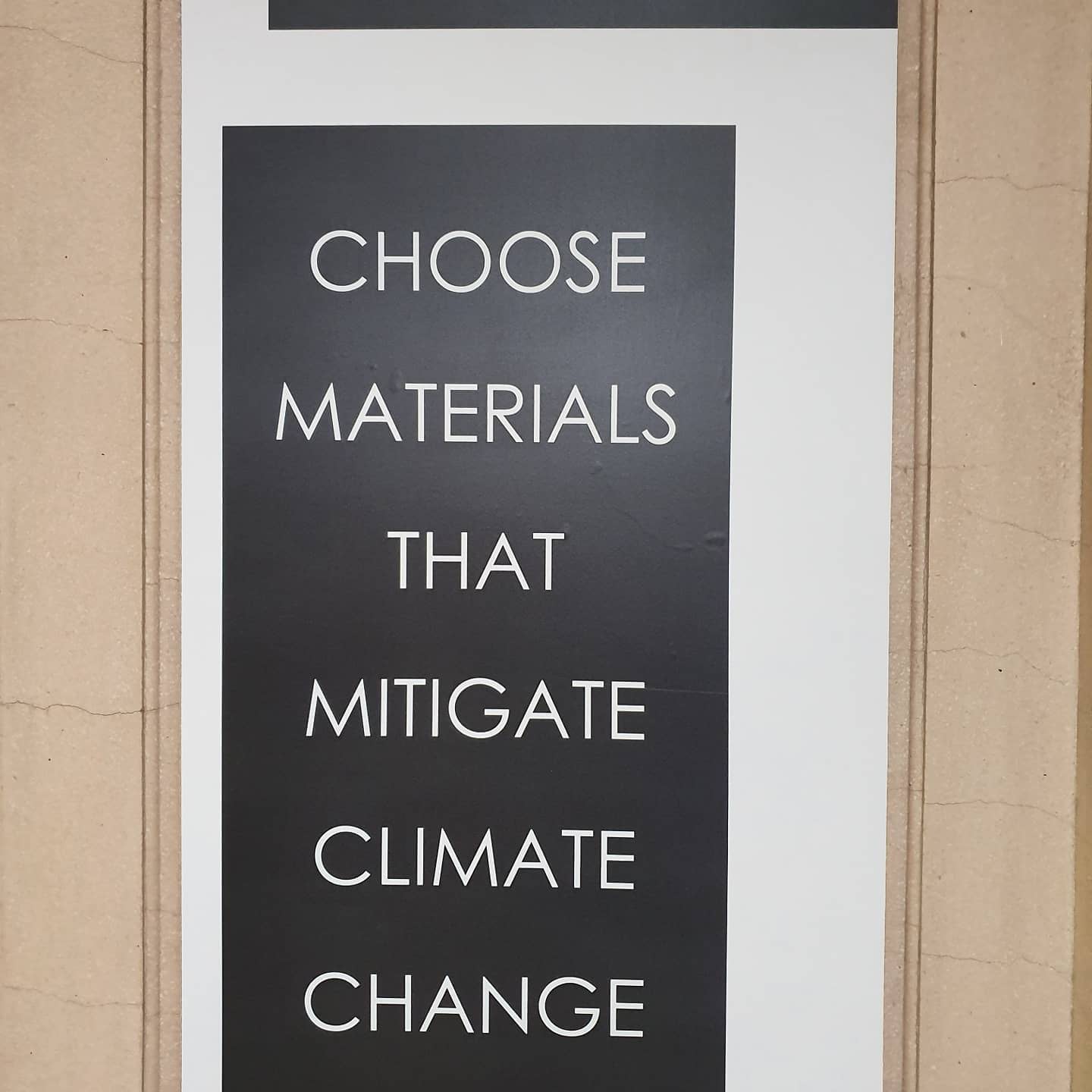 Fashion Revolution is a global movement that was set up in the aftermath of the Rana Plaza factory collapse in Bangladesh. The founders knew that the current model of relentless fast fashion needed to change. By campaigning and working with industry professionals, they promote ethical working conditions and fair pay, conserving and restoring the environment and championing diversity across race, shape, age, gender and class. Through education they hope to shift consumer mindset, inspiring consumers to take action by buying less, buying better and asking questions directly to brands about the reality of who made the clothes we wear with the "Who Made My Clothes?" campaign. Fashion Revolution developed the Fashion Transparency Index to pressure brands to disclose information about the impact their production has on the workers in their supply chain and the environment. They are now seeing an increasing number of brands publishing their factory lists, which is a positive step towards a more transparent and ethical future.  
"The fashion industry was built on secrecy and eltisim; it was opaque. Transparency is disruptive in that sense, it's a breath of fresh air and a useful weapon of change"- Orsola De Castro- co- founder of Fashion Revolution
It was great to see so many people under one roof inspired by new innovations and the show provided us with a solid foundation of sustainable fabric qualities that we look forward to designing into for upcoming seasons.
By Emily Hart